Published: November 17, 2014
OKLAHOMA CITY, OK | Maxcess, a global supplier of products and services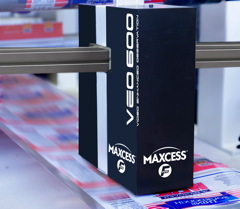 for the web handling industry, recently announced the Fife VEO 600 Video Enhanced Observation System. Company says it is a low-cost, compact, and easy to install and operate video-assisted moving-web monitoring inspection system.
"The VEO 600 is an extremely intuitive and compact inspection system," says Chris Harper, global product manager for Fife Inspection. "We think users will enjoy its power, ease of use, and accuracy, while maintaining an attractive price point."
Utilizing a camera system with integrated strobe lighting, timed to user's machine print cylinder, bull gear, or printed mark to capture of "freeze" images of a moving web, the VEO 600 allows for the visual inspection of print quality, registration marks, and other print processes by an operator at high production speeds.
This email address is being protected from spambots. You need JavaScript enabled to view it.