Published: January 16, 2014
WESTERLY, RI | Maxson Automatic Machinery Co. offers what it says is a unique design that connects the overlap carriage of a sheeter's delivery system to the front stop assembly of the sheeter's stacker. Company says this feature reduces setup by setting the length of the stacker's jog box at the same time the overlap carriage is positioned for a new cutoff.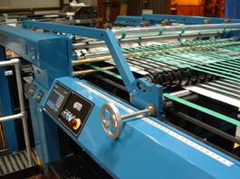 On a high-production sheeter, the cut packets are shingled in the delivery system with a high-speed and low-speed tape section. A driven, bake-o-lite roll is incorporated into a carriage to control the leading edge of the sheet as it enters the slow-speed tape section. The distance between the end of the high-speed tape section and the position of the overlap carriage is the sheet length being cut.
Connecting frames on either side of the overlap carriage are attached to the stacker's front stop assembly, which is positioned to allow sheets to be tightly jogged into a well formed pile. By moving the overlap carriage, the front stop assembly is automatically set, eliminating the need for the operator to walk from the delivery system to the front of the stacker and properly set up the stacker.
This email address is being protected from spambots. You need JavaScript enabled to view it.