Published: January 10, 2014
ROCKFORD, IL | Martin Automatic announces that a Chinese label converter has ordered a second automatic butt splicer and transfer rewinder. The MBSC splicer and STR rewinder will be installed on an existing Omet press.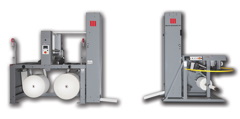 David Ho, Martin Automatic's general manager for the Asia-Pacific region, says that the customer placed the order within a year after installing their first Martin splicer and rewinder. "This repeat order shows clearly the value of Martin roll-change equipment is highly appreciated." Reportedly, the first MBSC and STR helped reduce the converter's defect rate on that press by 2% and material waste by more than 1.6 tons in less than a year.
With a compact size, the MBSC and STR combination is said to be a practical and affordable upgrade that significantly boosts productivity and reduces materials waste for more profitable operations. The MBSC and STR provide roll change automation for label presses with web widths to 330 mm and speeds to 150 mpm. For the Omet press, the new Martin equipment will provide nonstop roll production of substrates including paper, light tag, and pressure-sensitive label and film stocks.