Published: January 07, 2014
ARLINGTON HTS., IL | ITW Muller, a manufacturer of stretch wrap equipment and stretch wrap film, has introduced the Octopus "C" automatic rotary ring stretch wrapper, said to be a reliable and economical solution for wrapping pallets. Company says that the wrapper is compact in size, and the aluminum frame structure provides dependable construction with minimal maintenance required.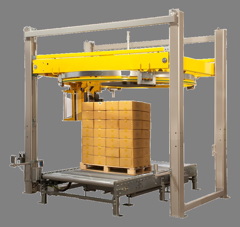 "We built the 'C' series to give customers all the benefits they've come to expect from our Octopus rotary ring stretch wrap machines in a smaller footprint," says sales and marketing director Michael Klear. "It takes up less space than most other wrappers and is easy to install— all while providing optimal load containment and minimizing film usage."
The Octopus "C" comes equipped with company's ITW Muller's patented Easy S Film Carriage, which reportedly enables simple film loading, maximizes pre-stretch performance, and minimizes wear.
The machine can wrap up to 40 loads/hr depending on load size and wrap pattern. With options such as OctoFACE operator interface touch screen, maintenance ring locking, low film alarm, and external grace port, company says the "C" series Octopus has many of the same versatile and performance enhancing features of higher speed models. Available modular components include a load stabilizer, roping device, and pallet lift device.
This email address is being protected from spambots. You need JavaScript enabled to view it.