Published: October 01, 2007, By Edited By Claudia Hine, Managing Editor
Digital Printing
Multi-Color Corp. has purchased a Hewlett-Packard Indigo ws4500 digital press to meet customers' growing demands for customized decorating solutions in small to mid-range print-run quantities. This is the second new press acquisition by Multi-Color recently, designed to reinforce its leadership position and long-term commitment to the label industry.
Unlike traditional narrow web presses, this new digital press will have quicker changeovers, less scrap, and direct-to-press speeds, says Multi-Color. These features will deliver high quality, cost-effective labels for a wide variety of its technologies including pressure-sensitive, in-mold, shrink sleeve, and cut-and-stack labels.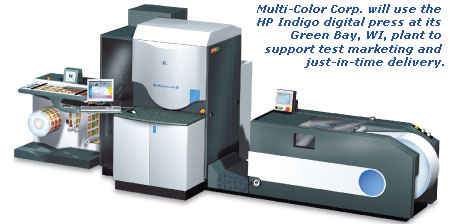 According to Don Kneir, president of the Decorating Solutions Div., "This new technology addresses one of the market's top issues: to deliver manageable quantities of complex and intricate graphic designs in a timely and cost-effective manner."
Reprotedly, digital print technology meets today's dynamic business needs by providing service levels to support test marketing, just-in-time delivery, and increased segmentation in both regional and national markets. To take full advantage of these capabilities, Multi-Color is placing the new press at its Green Bay, WI, facility.
Staying Competitive
Founded in 1916, Multi-Color has 650 employees at eight manufacturing locations in the US. The company reports it is one of the world's largest producers of in-mold labels and heat transfer labels with estimated sales in 2007 at $222 million.
Multi-Color serves consumer product and food and beverage companies, national retailers, and container manufacturers worldwide. Its products are shipped to customers in the US, Canada, Mexico, and Central and South America.
Jack Mackert, VP of operations, says, "As a result of this digital press, we will continue to be competitive in the marketplace by providing more flexibility for short to mid-quantity label production. In fact, the printing landscape is changing significantly as roughly 65% of all current label print runs fall into the short to mid-quantity range, according to recent industry research."
---
CONVERTER INFO:
Multi-Color Corp. | 50 E-Business Way, Ste. 400, Sharonville, OH 45241 | 513-381-1480 | multicolorcorp.com
SUPPLIER INFO:

Hewlett-Packard, Digital Printing Solutions | hp.com | PFFC-ASAP 306

---