Published: April 26, 2013
GRAND ISLAND, NY | NRD reports the launch of the new Clean Room Ionizing Gun, Model P-2021-5942. Designed, assembled, and packaged for use in a wide variety of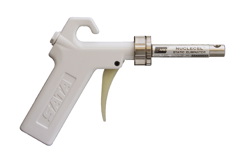 clean room applications, the gun utilizes company's proprietary Alpha Ionizing technology, said to provide safe, durable and, effective static and contaminant removal.
Used with compressed air or nitrogen, the high-performance gun can be utilized for
sensitive surfaces and in targeting difficult areas effectively. Company says it also provides zero-volt offset performance without the worry of the particulate contamination that commonly occurs with other types of electrical and piezo-style ionizing guns.
Said to be convenient and easy-to-use, ionizing gun does not require an outside power source and is inherently balanced, eliminating the need for periodic calibration.
This email address is being protected from spambots. You need JavaScript enabled to view it.