Published: April 20, 2018
KOLDING, DENMARK | CeDo, a European manufacturer and distributor of household disposable products, reports a significant investment in corona treatment technology from Vetaphone. CeDo, with a presence in most of continental Europe as well as the UK, produces a range of refuse sacks and bio bags, food, freezer and sandwich bags, as well as aluminium foils and cling film. It has production facilities in four countries. The main European production facility is located in Katy Wroclawskie, southern Poland, which employs more than 550 people and enjoys an annual turnover of around €150m. This is made up of 80,000 tonnes of PE bags, aluminium foil, and cling film.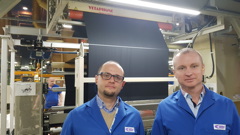 It was when a new plant opened in Poland in 2001 that CeDo began to look at surface treatment technology as a way of improving product quality. After detailed market studies and trials, Vetaphone was selected as the key provider, and between 2001 and 2015, a total of ten Vetaphone units were installed, with a further nine being added between 2015 and 2017. These included four systems type VE1B-A (PF2-10)1520 QC station and 1.5 kW generator, three systems type VE1B-A (DS)620 QC, with a specially design station with 1 kW generator, and two systems type VE1B-A (DS)1120 QC station and 1,5 kW generator.
Today, more than 25% of CeDo's total output has received Vetaphone surface treatment. Andrzej Majewski, site director at Katy Wroclawskie, says, "We operate 78 lines here on a 24/7 basis, so reliable technology is essential. Our experience with Vetaphone equipment has been outstanding. It is easy to use, robust, and excellent value for money. It also takes away one of the production variables."
Mariusz Ruciński, project manager responsible for the investment plan at Katy Wroclawskie, says that one of the advantages of standardizing on a single supplier for surface treatment is the consistency it provides, both in performance and the working partnership that builds between the two companies. "Many suppliers offer only standard products, but with Vetaphone we have been able to refine specification to suit our exact requirements. We also appreciate the after sales support and program of continuous improvement from which we have benefitted over the years with various upgrades. With a web width range from 300mm to 1,500 mm, CeDo's requirements play to Vetaphone's strength of offering custom solutions."
Speaking for Technograph, Vetaphone's distributor in Poland, product manager Magdalena Zaczkiewicz says, "Working closely with such a major name as CeDo is a huge bonus for Vetaphone because it validates our claim to offer market leading technology and service that is bespoke to each customer. Surface treatment is only part of the overall process, but it is a crucial one, if consistent quality is required." To ensure this happens, the two companies hold regular technical meetings, providing a two-way information exchange that keeps both up to speed. Download Free Omegle Girls - Full nude Teen Babes
Next on the agenda at Katy Wroclawskie is a major expansion project that will see a further 7,000 sq m of floor space added to the site. Destined to raise annual production initially by 20,000 tonnes but eventually 35,000 tonnes, the larger facility will employ an additional 100 people. "We see potential for more Vetaphone corona units in 2019 to equip the additional manufacturing capability," says Majewski. "We value their knowledge and appreciate the consistent accuracy of their equipment's performance."