Published: June 26, 2014
HARTLAND, WI | Pillar Technologies, a manufacturer of advanced surface treatment and induction cap sealing systems, reports the launch of the VERSATreat corona treatment system.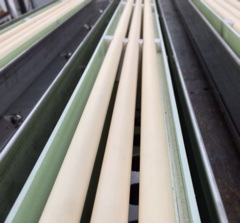 "This exclusive corona treatment technology directly responds to the industry's request for longer ceramic electrode life and longer ceramic roll covering life", says Brad Budde, Pillar sales manager. "It also features a smaller, more compact design compared to other systems."
Company says features and user benefits include the following:
• the ability to universally treat both conductive and non-conductive materials
• a new ceramic electrode with electrical and structural properties designed to maximize uptime, minimizing electrode failures, and increase treatment level
• a proprietary ceramic ground roll coating that provides nearly 100% greater dielectric strength than other ceramic coatings
• an exclusively applied ceramic ground roll coating that significantly increases in-service life and MTBF
• a three-year. non-prorated ground roll warranty.
This email address is being protected from spambots. You need JavaScript enabled to view it.