Published: September 29, 2014
KEMPSTON, BEDFORD, UK | Atlas Converting Equipment reports that the Open House event held on Wednesday, September 17, in Kempston to celebrate the 50th Anniversary of Titan slitter/rewinders was a great success. More than 80 guests as well as representatives from partner supplier companies, Titan agents, and the converting media attended the event.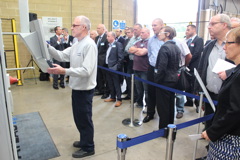 Presentations included the latest slitter/rewinder technology from Titan, followed by demonstrations of the ER610 Compact and SR9-DT Dual Turret models, processing a 30-micron, 1,200-mm-wide BOPP film supplied by the Poligal Group (Spain) and printed for the occasion by FFP Packaging Solutions, Northampton, UK, a long-time Titan customer. Six 190-mm rolls were rewound on both machines and at 700 mpm on the SR9-DT rewinder.
The guest speaker of the day was Dr. Carolin Struller, Research Associate of Bobst Manchester Ltd., who gave a presentation on Aluminium Oxide Coated Transparent Barrier Films for Packaging Applications.
Four partner suppliers also offered presentations: Koch robotics (Germany); Dienes slitting technology (Germany); Ga.Vo core cutting solutions (Italy); and BST eltromat Intl. web guiding and inspection systems (Germany). Demonstrations of all partner suppliers' equipment was available throughout the day.
Titan announces the sale of a SR9-DT dual turret rewinder to a North American customer, signed during the Open House and expected to be delivered during Q1 of 2015.
Guests at the Open House received a commemorative gift and all Titan slitter/rewinders sold for delivery during 2014 feature a special 50th Anniversary gold machine livery. Pages dedicated to Titan's 50th Anniversary are viewable on the Atlas-Titan website at the following link with a history of Titan, its machines, and milestones which started in London in 1964.
This email address is being protected from spambots. You need JavaScript enabled to view it.