Published: June 04, 2012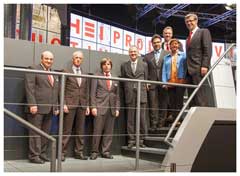 DUSSELDORF, GERMANY | Heidelberg reports colordruck Baiersbronn has invested in a Speedmaster XL 106 six-color press with dual coating unit and is to be sent the drupa display machine. This configuration is the first of its kind in the world, reaching a length of almost 30 m with its ten printing units.
Boasting extremely short makeready times and stable production speeds, this press delivers maximum productivity, the company reports. The order also includes a full-service contract for 72 months.
"Our strategy is based on using state-of-the-art technology to achieve maximum productivity and impress our customers with outstanding product quality," says Managing Director Martin Bruttel. Colordruck was the first user to employ a Speedmaster XL 105 six-color press after drupa 2004, and in 2011, installed the 1,000th machine of this successful series—a Speedmaster XL 105 six-color press with full logistics workflow and fully automatic non-stop system. "In Heidelberg, we have found a partner whose machines offer a secure investment and competitive production. We can also count on the quality of the company's services," says Bruttel.
Ecological print production
More than 180 staff work at colordruck, producing high quality folding cartons for foodstuffs, confectionery, pharmaceuticals, cosmetics, toys, textiles, and chemicals. Its customers include well-known manufacturers of branded goods and industrial companies. Colordruck is committed to ecological print production and takes an integrated approach to environmental protection, as evidenced by its environmentally friendly energy recovery system for heating and cooling its buildings and the use of green electricity.
The Speedmaster XL 106 boasts fast makeready times and rapid inking-up, which help make further significant reductions in material consumption, thus ensuring climate-friendly folding carton production. As with all the other machines in the pressroom of colordruck Baiersbronn, the new Speedmaster XL 106 is climate-neutral, too, since the entire Heidelberg presentation at drupa was staged on a carbon-neutral basis.