Published: December 12, 2017
ROGERS, MN | Flint Group announces the opening of its new facility in the cosmopolitan district of Beylikduzu, in Istanbul, Turkey. Company says this new 3,800-sq-m manufacturing and distribution facility is conveniently located only 13 kilometers from the main container terminal on the European side of Turkey and is well positioned for exports to surrounding markets in the Middle East.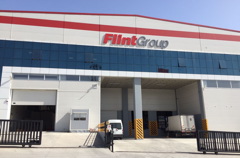 Kim Melander, VP sales EMEA & Global Strategy Paper & Board, says, "Flint Group's Paper & Board business has been a local supplier in Turkey and the neighboring regions since 2008, and our team has been satisfying customers' requirements with state-of-the-art manufacturing capabilities and expert local service for nearly ten years. This additional investment not only solidifies Flint Group's dedication to the Turkish market but also confirms our promise to grow together with its customers in this key emerging market."
Krzysztof Struszczak, Operations Director Packaging Inks Eastern Europe, adds, "The acquisition of this new facility was initially, and strategically, planned for Flint Group's water-based Paper & Board business segment. However, it soon became clear that we should combine with other key segments supplying all needs of the packaging market from this one location. Today, Flint Group's Narrow Web, Sheetfed, and Digital Solutions (Xeikon) businesses have joined Paper & Board in this single facility."
Melander continues, "Flint Group's aim is, of course, to provide the best and most streamlined service and support to all customers. Many of our key customers purchase products from more than one of our segments. With this expansion in Istanbul, we now have the ability to satisfy the requirements of multiple aspects of our customers' businesses under one roof, providing a unique ability to focus on key markets but also share our knowledge across the full range of the package printing business."
The company says that, with local support, it is able to reduce lead times resulting in improved and fortified service. Furthermore, customers will enjoy customized products that are suitable for the warm Turkish and Middle Eastern climates.
The facility in Beylikduzu is currently up and running—producing and shipping products to packaging printers in Turkey, and the Middle East.
This email address is being protected from spambots. You need JavaScript enabled to view it.