Published: October 01, 2007, By Edited by Claudia Hine, Managing Editor
Web Handling
How does a prime label converter manage to maintain and grow market share in the heart of the rustbelt? Certainly not by clinging to the technologies and ideas of yesterday.
Instead, it anticipates and adapts to its changing market, challenging common perceptions about the ways things are done. It makes the "commitment to invest in technology" something more than a slogan on its website, and it partners with vendors to make smart equipment purchases.
That's precisely the formula Gintzler Graphics is using. Since its beginning in 1916 as a typical "letter shop," the company has evolved over the decades through sheet, pressure-sensitive, and roll label converting. By the 1970s, Gintzler recognized the growth potential in narrow web labels and began to move away from the offset and tape businesses.
Today Gintzler's 54,000-sq-ft facility serves several operations ranging from prime labels (health, beauty, pharmaceutical, and food) to converting. Also included is the company's shrink-sleeve operation, which has experienced dramatic growth in recent years.
"We focus on short- to medium-run, high quality prime labeling," says president Franklin Nice. "We can do any kind of pressure-sensitive label, and we do some specialty flexible packaging—nonpressure-sensitive pouching materials and material converting. We primarily have Gallus equipment, both rotary letterpress and ultraviolet flexography."
Gintzler Graphics believes in investing in technology and a variety of it. It considers its wide range of capabilities a key to market flexibility and customer satisfaction. But until a few years ago, and despite this open-minded outlook, Gintzler had never considered automatic roll changing as a production enhancement.
For years, printers believed automatic splicing was primarily for lower quality, high-volume printers, not for a high quality, shorter-run house like Gintzler. "That's definitely how we see ourselves," Nice concurs. "And that was a pretty common belief that we probably shared. But as the market changes, needs change. We discovered that automatic splicing has a valuable place in a short-run, high quality shop like ours."
Costly Substrates Bring Change
The definition of quality is evolving constantly in the eye of the customer. The never-ending quest for shelf appeal has led to the use of more costly substrates, particularly among Gintzler's core clientele of health and beauty, pharmaceutical, and gourmet foods.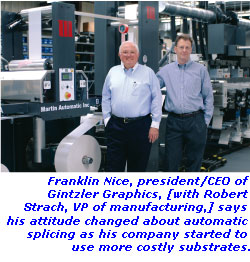 "We needed to convert a full web width of fairly expensive material on our 16-inch press, the widest—and longest—press we have," says Nice. "The material costs for this nine-color press were much greater than that of our smaller presses [8-11 in.]. There is over 100 feet of material in it from beginning to end. Most, if not all, of it is lost with every stop and must be edited out. It really started adding up when we began working with more costly substrates."
Additionally, with an eye toward maintaining the versatility and flexibility that had become the company's calling card, Nice began to consider the complexity of manual roll splicing among Gintzler's various substrates. "The other thing we do that is very important is shrink labeling. That material is very challenging to handle and the less you can stop the press, the better."
So, when considering the costs of materials, waste, and lost production time, the idea of automatic splicing began to grow in appeal.
But which supplier would get the nod? Nice explains his criteria. "What we look for in a vendor is the same as what we feel we offer our customers: flexibility, capability, and a reputation for quality. We want somebody who is going to work with us not just as buyer-seller but will keep our best interests in mind. We want a consultative relationship."
"Consultative sales" is a term that is often heard and sometimes abused. Nice provides his own definition: "Basically, it's a sales person who gets to know your business, who understands what you are trying to achieve, and makes recommendations that are sound—not just ones that boost his commission."
Solid Engineering is Key
The first consideration was a reputation for quality. Nice polled industry acquaintances. "It started with a recommendation from one of our press manufacturers, who suggested talking to Martin Automatic, noting their reputation for solid engineering and reliability. I continued my research and was encouraged by engineers who work on our other production equipment—they held Martin's engineering in very high regard. It's pretty meaningful when one engineer says something good about another company's engineering."
As for the Martin rep, "He did a great job getting to know us," Nice says. "He made suggestions for options that he thought would help us. He also talked us out of some ideas that he didn't think were so helpful. Basically, he got us off to a very good start."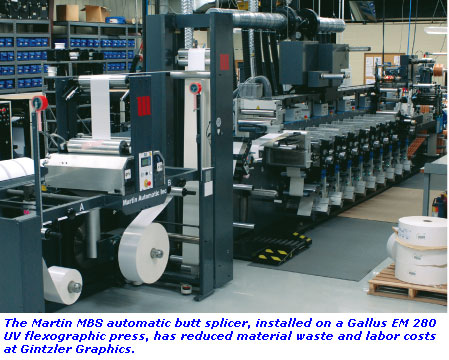 It has been more than seven years since that first automatic splicer, a Martin MBSF, was installed, plenty of time to evaluate his buying decision. Nice sums up the business impact of automatic splicing, first in terms of quality. "Adding automatic roll change has had a broad impact on our operations. With a consistent, reliable splice, we're just printing better. Even if you're not running multiple shifts 24/7, automatic roll changing improves your operation and quality of print. We've been very pleased with the results."
Operator satisfaction sometimes can seem like a secondary concern—just ask your operators. But, as Nice explains, operator confidence in the splice can lead to increased throughput. "Our operators love the automatic splicing. It makes their lives much easier to simply preload the roll and let it do its thing. They also seem to be more comfortable running the presses at higher speeds. With a manual splice, they tend to nurse the splice through the press before they bring it up to speed. With the Martins, I don't think they worry as much about getting down to the end of the roll. They seem to have more confidence in the strength and consistency of the machine-made splice."
Inevitably, the most critical investment justification is this: Will it save money? To answer this question, Nice finds it helpful to revisit the basic function of the automatic roll changer.
"It removes the spoilage of materials due to press stops for roll changes. When you stop a web press, all the material between the first print station and the last is lost due to print skips that occur in each print position. These must be cleared on a post-print inspection.
"Any press stop automatically causes the loss of at least 50 to 100 feet of material, not to mention the time it takes to change the roll, which quickly adds up across an entire shift. There's no question that, in addition to improving our quality and throughput, automatic splicing has reduced our material waste and also labor costs."
Servo Press to Come
In the years since that initial investment, Nice has added eight additional Martin units—MBS, MBSF, and LRD models—and has one more budgeted for the next year. "Often, people will buy a new press and not think about the front-end, back-end components of their production," he says. "I was guilty of that myself. But you have to take these components into consideration now, especially as presses get bigger, faster, and more complex."
On the subject of new presses, Nice admits he likely will be buying a new high-speed servo press sometime in the future, and he plans to specify Martins for his automatic splicer and rewind. "Martin has earned their place on our team. They have good equipment, good service, and—of the greatest value to me—good, honest advice."
---
---
Where Servo Serves Best
Gintzler Graphics' next press, like many new presses on the market, will be servo driven. Does this technology in a press carry over to automatic splicing? Not necessarily, says Gintzler president Frank Nice.

"Quite frankly, the thought never entered my mind. The place where servos can be used efficiently is in the print units, where there are a lot of critical registration and tension issues, but I don't see a need for them on our splicers. The splicers work very well and very consistently as is, and I'm not sure how servos would enhance their performance. In fact, it might make things more complicated while not improving anything."

According to Jim Ward, VP of engineering for Martin Automatic, "The term 'servo press' can have different meanings depending on the press design. When properly applied, servo technology is a tool for holding tight register and maintaining tension within the press. Today's servo technology combined with the latest press controls can provide a much quicker response to registration variations. It can even anticipate certain events and dramatically improve the performance of the press.

"On the other hand," Ward continues, "this technology does not provide the same benefits to all components. Automatic unwinding and splicing systems have a unique set of challenges, including running out-of-round rolls, continuously changing roll diameters, and severe changes in roll weight. The precision motion control offered by servo systems has very little benefit for these applications."

Ward concludes, "A 'fits-all' technology solution, servo or otherwise, is rarely in the printer's best interest. It really comes down to asking questions and then applying sound engineering and the appropriate technology to each project to deliver the best performance and return on investment."
---
CONVERTER INFO:
Gintzler Graphics Inc. | 100 Lawrence Bell Dr., Buffalo, NY 14221 | 716-631-9700 | gintzler.com

SUPPLIER INFO: