Published: March 02, 2005, By pffc-online.com
PRESS RELEASE
FAIRFIELD, NJ—Alcan Packaging has won the first ever Flexo Grand Slam Award for sweeping the three most prestigious awards for flexo package printing in the 2003/2004 season. Alcan won FTA's 2004 "Best in Show" for the Scotbloc Chocolate Flavour Cake Covering package; the FlexoTech Intl. Awards 2003 "Supreme Winner;" and the EFTA's 2004 "Best in Show" with the Safeway Best Hand-Cooked Chips package.
Alcan is a longtime Fischer & Krecke customer and currently owns three generations of F&K and CI flexo presses. Alcan printed the award-winning packages on one of its new Fischer & Krecke Flexpress 16 S presses.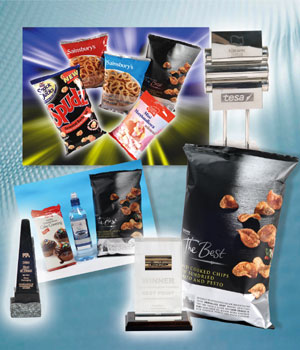 For more information, see alcanpackaging.com.