Published: March 15, 2023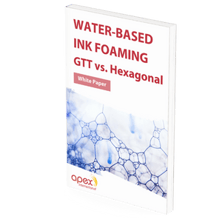 Over the past couple of decades, flexo printing has become one of the most essential printing technologies in use. It is particularly useful for printing packaging at very high speeds with high-quality image fidelity, ideal for food packaging and other products with short shelf lives.
However, there is a question around the productivity and efficiency achieved by the current flexo process, when you consider that the high investment cost of a printing press is only running and making saleable product 40 percent of the time (meaning that 60 percent of the time it generates zero revenue).
The problem isn't in whether the machinery and technology are fast enough, but rather the difficulty in efficiently achieving the required print quality at a highspeed. This requires a streamlined set up procedure and reduced downtime on a press normally associated with the flexo process. Currently, ink foaming is a silent problem, resulting in downtime that is experienced only when using based flexo ink.
When a printing press is in the stationary or idle position, and the water-based ink is circulating around the ink system, it is not affected by foaming due to the closed inking system. It is only when the printing press is in full production that the micro-foaming will start to occur.
Micro-foaming can create ink circulation issues but is normally solved with chemical additions. However, both aeration and the over addition of antifoam agents can create many print-related problems that produce waste products and additional downtime.
A possible solution is to adjust the print method, increasing the anilox volume. However, this results in a higher drying time, slower process speeds, higher ink costs and ultimately drives up print costs.
Do you want to learn more? In this white paper, we show you step by step the root cause of ink foaming, how different engravings influence the ink foaming, and what you can do today to reduce this expensive and frustrating printing fault.