Published: October 17, 2022
By Ben Starr, Technical Support Specialist, Luminite Products Corporation
Packaging is important in today's world, as customers expect a certain experience when a product is shipped to their doorstep. Even the products packaged for sale on a store shelf are required to deliver a certain impression. Both flexo and gravure printing are reliable forms of product marking. However, each has its own benefits and downsides.
From print run length to color radiance, the printing method you choose can make a difference in cost and final product quality.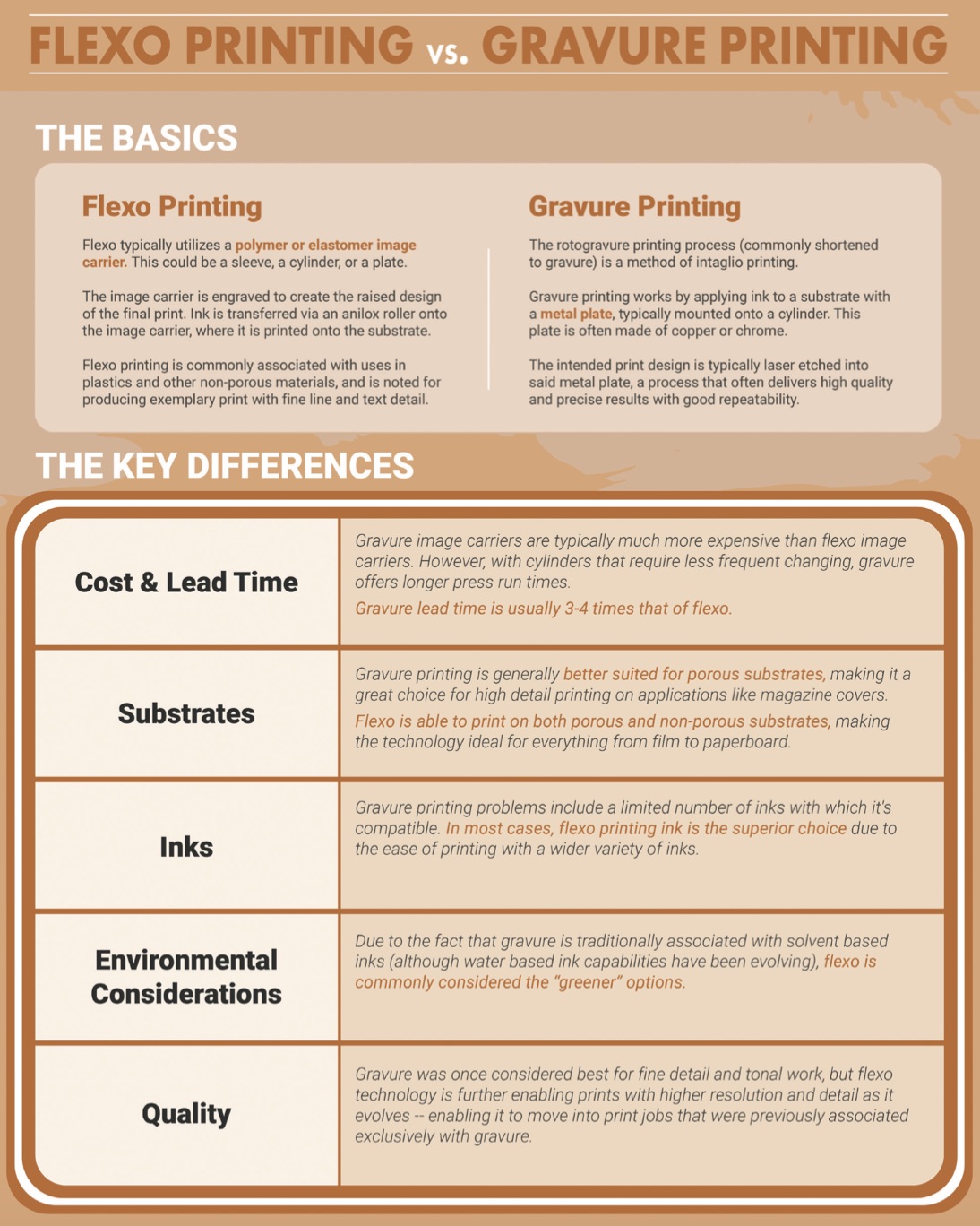 Advanced Printing Methods: Flexo vs. Gravure
Commercial printing relies on a variety of technologies to print on different substrates, but two of the more popular techniques are flexographic printing and gravure printing.
Both technologies involve the creation of printing sleeves, cylinders and plates, and both can perform long-run, high-volume printing — though flexo can be cost-effective for shorter runs. Finally, both are able to produce exceptional results.
Below, we dive into the basics of each type of printing, then call out differences that are noteworthy.
Basics of Flexo Printing
Flexo typically utilizes a polymer or elastomer image carrier. This could be a:
The image carrier is engraved to create the raised design of the final desired print. Ink is then transferred from the inkwell via an anilox roller onto the image carrier, where it is then printed onto the substrate.
Flexo printing is more commonly associated with uses in flexible plastics and other non-porous materials such as film, labels, foil and other packaging. The ability to control and repeat the process for images printed using flexo is part of the appeal of this printing process.
Flexo is also noted for producing an exemplary print with fine lines and text detail.
Basics of Gravure Printing
The rotogravure printing process (commonly shortened to gravure) is a method of intaglio printing. Gravure printing works by applying ink to a substrate with the use of a metal plate that is typically mounted onto a cylinder. This plate is often made of copper or chrome.
The image or text that is intended for printing is typically laser etched into said metal plate, a process that often delivers high quality and precise results with good repeatability.
The gravure printing process also involves the transfer of the ink to the substrate from the depressions in the engraved surface. A blade removes excess ink prior to contact with the substrate. Meanwhile, an impression cylinder on the back side of the substrate forces contact with the depressed, ink-filled regions of the gravure roll.
The use of the impression cylinder increases color vibrancy in the print, which is another appeal of using this type of printing. The gravure press may include many in-line stations, each for a different color of ink. Additional stations may also be part of the process, which apply cold seal or barrier emulsions.
Flexo Printing vs. Gravure Printing: Where Differences Are Noted
Gravure — Gravure image carriers are more expensive, making the number of prints required to break even much higher. Also, the lead time is three-four times that of flexo.
Gravure is better suited for printing on porous substrates and is considered ideal for high-detail printing on applications such as magazine covers. It has also been used in industrial-scale applications involving printed electronics. However, this type of printing has a limit to the number of inks that are compatible and also requires more ink per print — which can drive up the cost of printing.
A type of printing traditionally associated with solvent-based inks, gravure printing could be considered less eco-friendly than a printing process that utilizes water-soluble inks (although the capabilities of these inks have been evolving and may be used in the future). The cost of printing can also be higher with gravure printing, due to the amount of ink required per print, although this is not always the case.
Gravure printing was once considered best for fine detail and tonal work, but flexo technology is further enabling prints with higher resolution and detail as it evolves — enabling it to move into print jobs that were previously associated exclusively with gravure.
Flexo — Flexo printing has a much shorter lead time than gravure, which requires less frequent changing of the cylinder. The print run time for gravure is longer as well.
Flexo is able to print on both porous and non-porous substrates, making the technology ideal for everything from film to paperboard. When it comes to ink, flexo printing is the superior choice due to the ease of printing with a wider variety of inks.
Flexo is also commonly considered the "greener" option. There are generally more flexo printing solutions for VOC (volatile organic compound) problems, and the press operations are associated with more environmentally friendly practices.
Flexo or Gravure: The Final Decision
Several factors, including sustainability, cost, ink type and more need to be considered before choosing between flexo and gravure printing. Your decision should be based on internal decisions mixed with outside consultations from your preferred printing house.
It's important to consult a trusted print house before making your final decision to ensure you will be getting the best prints possible.
About the Author
Resident Technical Support Specialist at Luminite Products Corporation, Ben Starr supports clients toward challenging printing applications, defects or press issues with his advanced knowledge of the flexograpohic printing industry. Family-owned and operated since 1926, Luminite Product Corporation offers the original continuous print solution, as well as direct laser-engraved elastomer sleeves, cylinders and plates for the flexographic printing industry.