Published: May 14, 2013
CHICAGO, IL | Colbert Packaging Corp., a manufacturer of folding cartons, rigid paper boxes, and paperboard specialty products, took home a Best of Show and Gold Award at the recent Excellence in Flexography Awards competition held by the Flexographic Technical Assn. The awards honored Colbert's VetGuard Plus version of its patented EnviroGuard solution. The package was chosen as the Excellence in Flexography Best of Show winner in the paperboard class.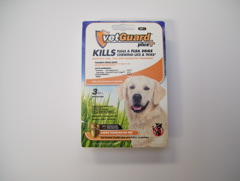 "It is an honor to have been chosen for this highly coveted award from a pool of many qualified entrants," says Brad Davis, general manager of Colbert Flexographic Packaging. "VetGuard Plus was the first commercial application for EnviroGuard, and this Best of Show Award lends credence to EnviroGuard's viability in the market.…"
VetGuard Plus—packaged in eight fully customized, paperboard-only versions of EnviroGuard—made its US market debut in 2012 in big box retail and club stores. VetGuard Plus packages are produced on a custom-built CPS CP 585 in Colbert's flexographic manufacturing facility in Lake Forest, IL. The CP 585 features nine print stations for printing four-color processes and coating both sides of web-fed paperboard (to 23 in. wide) in a single pass. The press prints water-based and ultraviolet inks, and it can also produce metallic and holographic effects.
All VetGuard Plus packages consist of treatment applicators, calendar reminder labels, and a printed and micro-folded insert that contains product information and meets FDA and EPA regulations for veterinary medications. The paper insert was printed and micro-folded by C and H Printing Solutions, a joint venture between Colbert Packaging and Haapanen Brothers.
For more on the 2013 FTA awards, see the recent PFFC writeup.
This email address is being protected from spambots. You need JavaScript enabled to view it.