Published: May 09, 2013
WILMINGTON, DE | DuPont Packaging Graphics today announced that it has installed a third DuPont Cyrel DigiFlow flexographic printing system at the ALC Group, a major trade shop in Kansas City, MO. The advanced flat top dot, UV main exposure flexo system is designed to meet the demand for better ink transfer and increased color saturation.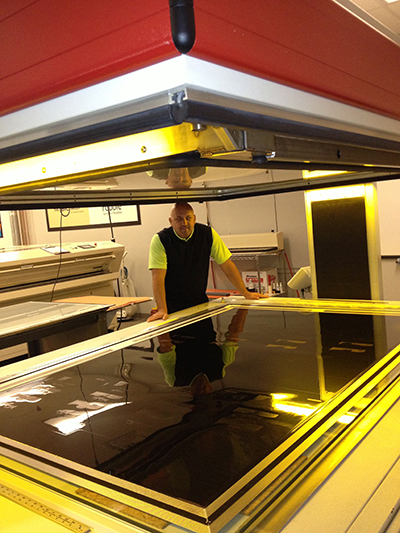 "Printing technologies that enable consumer packaged goods to have that 'extra pop' on the shelf are in high demand from our customers," said Byron Pendleton, VP, ALC Group. "We also needed a solution for some fluting challenges on our high-end corrugated jobs, so we tested competitive solutions and found Cyrel DigiFlow and Cyrel DigiCorr a strong flat top dot system for both issues. It's why we have implemented this solution in all of our plate rooms." Cyrel DigiFlow is a digital workflow enhancement that expands the capabilities of digital Cyrel solvent plates to deliver superior print quality and productivity. As a simple modification to existing DuPont Cyrel exposure units, the DigiFlow modification can be used, as needed, when a flat top dot is required. It also optimizes the benefits associated with solid screening programs such as HD Flexo Microcell. DigiFlow delivers improved solid ink density and 1:1 image reproduction, with no additional plate making steps.
In a comparison of standard and Cyrel DigiFlow dot structures, ALC Group reported a significant performance improvement. The Cyrel DigiFlow dot was more dependable. They noted the system's ease of use, greater speed, and smaller potential environmental footprint than current flat top dot systems. As a leader in providing flexible packaging solutions, ALC Group also is experimenting with combining Cyrel DigiFlow and Microcell screening with the new DuPont engineered surface Cyrel DSP and DFP Performance Plates.
"We are still in the early stages of testing, but the Cyrel Digiflow, Performance Plate, and Microcell combination are demonstrating enhanced print quality, decreased set-up times, cleaner plates, and a better process build to spot color match," said Mike Taylor, facilities manager, ALC Group. Taylor also reports that the flat top dot structure in combination with the engineered surface plate provides a more consistent and stable plate to print process.
"We have been able to add density in process colors in the plus 20 percent range, without sacrificing highlights. The tests to date look very promising," said Taylor. "As the Midwest premier brand steward, the ALC Group is staying in line with its tradition in offering the highest level of client solutions," added Brenda Frick, VP of sales.