Published: May 02, 2013
WILMINGTON, DE | DuPont Packaging Graphics recently received the results of its first commercial trial of a new DuPont Cyrel flexographic plate technology designed to deliver greater quality, productivity and sustainability to the package printing industry. The new Cyrel Performance Plates provided Ultra Flex, a global leader in innovative flexible packaging solutions for consumer packaged goods (CPG) companies in the food and healthcare markets, exceptional results. The new plates enabled Ultra Flex to utilize expanded gamut techniques to optimize flexo print quality, achieving results only gravure can match.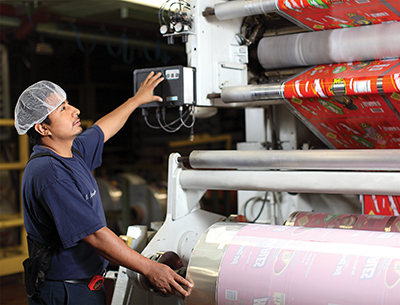 "At Ultra Flex, our aim is to set ourselves apart from the competition with the best flexo print quality possible—maximizing shelf impact, while improving productivity and sustainability," said Todd M. Addison, VP of Ultra Flex. "Plates that deliver high solid ink density, smooth ink laydown, and low dot gain make extended gamut printing possible, with added benefits including decreased press downtime, less material waste, less time in job change-over. The challenge was to find a plate that could help us make our quality goals a reality, and we have found that plate in the new DuPont Cyrel Performance Plates."
DuPont Cyrel Performance Plates are a family of next-generation digital printing plates specifically designed for the flexible packaging printer-converter. The Performance Plates provide superior solid ink density and long tonal range that make them ideal for use in extended gamut printing. Compatible with a wide array of substrates and inks, Cyrel Performance Plates can be used for a variety of applications, including flexible packaging, tag and label, envelopes, carrier bags, folding cartons, pre-print liners, and beverage cartons. Cyrel Performance Plates are available in solvent (DSP) and Cyrel FAST/thermal (DFP) processing versions.
Ultra Flex put the Cyrel DSP Performance Plates to the test on a large job consisting of 67 separate SKUs that had previously been run using traditional flexo printing plates. They used expanded gamut inks instead of running the job with spot color solid plates for the backgrounds, and completed the entire series with one press wash-up. They simply changed sleeves and kept running. The background color variation was less than two delta E for the entire job. Based on the high quality results and ease of use experienced during this initial trial, the Ultra Flex team expects to use DuPont Cyrel Performance Plates to print 56 new jobs.
"We didn't have to match colors, play with it, or perform wash-ups," said Zalman Zohar, printing manager at Ultra Flex. "We've never before seen quality solids like we see with the Cyrel Performance Plates. The productivity advantages save us money, and we're now 'greener,' which further sets us apart with our CPG customers."
Founded in 1974, in Brooklyn, NY, Ultra Flex has grown to become a global leader in supplying innovative flexible packaging solutions for consumer packaged goods (CPG) companies in the food and healthcare markets. This safe quality food (SQF) certified printer is known worldwide for delivering consistently high quality work and excellent customer service.