Published: April 30, 2005, By Edward Boyle, Contributing Editor
Inkjet Printing
The executives of Whitlam Label Co. have heard it many times: "But it's only a label." Yet to the automotive industry, a label isn't just a label, it's a "part," and it can be just as important as a mechanical or electronic component in the vehicles they manufacture.
Based in Center Line, MI, Whitlam Label is a member of the Automotive Industry Action Group (AIAG) and one of only a few Tier I companies that produce labels for General Motors, DaimlerChrysler, Ford, Toyota, and other automotive industry giants. While the company converts labels in as many as ten colors for a wide range of industries, including food and beverage, cosmetics and personal care, toys, vitamins, direct mail, and more, company president Rick Shaieb says automotive labels are "by far" its largest market.
Not for the Faint of Heart
If you ever take notice, you can see Whitlam labels on car doors, inside the vehicle, and on just about everything under the hood. In fact, there are as many as 150 labels on every vehicle that comes off assembly lines across the country. There are bar code labels that identify parts to track manufacturing dates, engineering revisions, or to provide other information, including vehicle identification number (VIN).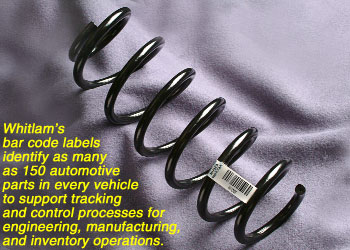 To describe them as "harsh environment labels" is an understatement. To begin with, the entire label (including inks, laminates, and adhesives) has to withstand high temperatures, some to 450 deg F. The labels also have to survive everything that can invade an engine compartment, such as grease, grit, oil, salt, car wash detergents, and waxes. So, it's not surprising every one of the 15 Mark Andy flexo presses at Whitlam's 130,000-sq-ft headquarters has at least one ultraviolet (UV) station.
OEMs and their Tier I suppliers work with Whitlam, which is one of the first automotive label companies to be granted ISO/TS 16949:2002 status. This challenging quality standard aligns US, German, French, and Italian automotive quality systems throughout the global automotive industry. Kevin Hayes, VP of sales and marketing, explains why working as a supplier to the automotive industry is not a business for the faint of heart. "One OEM buyer asked us if we really wanted to do business with his company," he says. "It cost $25,000 just to get into their system, and then we had to be EDI (Electronic Data Interchange) and JIT (just in time) capable, and if we ever shut down one of his lines, it's thousands of dollars a minute. But that's our working environment and the kind of challenge that we've built Whitlam's reputation on."
Whitlam labels are as much a part of the automotive assembly line as any other part. Because of that, Whitlam works closely with engineers on the development teams at the various automotive technical centers to create innovative labeling solutions for the new products on their drawing boards. Whitlam also has an extensive R&D lab in Center Line both to develop innovative products and meet new customer demands.
"We're working on automotive label solutions now that will be used on new products that our customers will be releasing in 2006 and 2007," says Ray Parnell, technical director. Parnell describes an example of a current Whitlam label development project. "A major OEM changed the design for the way they secure the coolant bottle in every engine," he explains. "It was molded with a new type of plastic and very difficult to stick anything to. We had to come up with a label that stays in place when the plastic expands in high temperatures and when it contracts in freezing climates. And they wanted the label to be gas-permeable so they could apply it to the bottle as soon as it emerged hot out of the molding machine. We gave them a solution that avoids adhesion failure, and just as important, remains readable after all that torture."
Whitlam engineers also work with OEM manufacturing teams responsible for assembly line output, which requires labels that can be applied automatically and scanned accurately by bar code readers.
In-Line Variable Data Imaging
Maintaining the readability of bar code data on harsh environment labels had always been a challenge until late last year, when Whitlam engineers began a unique technology partnership with Jetrion LLC, a sub. of Flint Ink Corp.
The joint development effort, centered on in-line integration of Jetrion's cutting edge, drop-on-demand 3025 Inkjet System into Whitlam's Mark Andy presses, has yielded a solution that both companies describe as a major breakthrough in variable data label printing.
"When we first saw the Jetrion 3025 Inkjet System, we immediately recognized its potential for our automotive label applications," says Shaieb. "It offers tremendous flexibility with Jetrion UV inks that print high quality, clean, and sharp variable images on virtually any type of label substrate, at much faster speeds than our other variable print units can give us."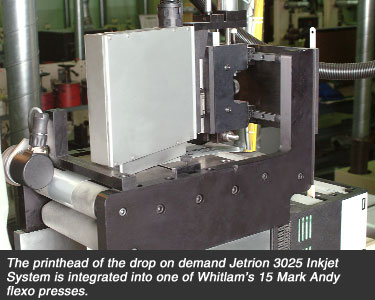 Whitlam's engineers and programmers worked in partnership with the Jetrion and Mark Andy technology teams to integrate a 3025 Inkjet System as an in-line ink jet printer into one of Whitlam's 15 Mark Andy flexo presses, a 7-in., ten-color, full-UV press. After some fine-tuning of the programming, Whitlam now has an innovative in-line label production solution that is delivering everything the company expected.
Parnell points out that as an in-line unit, the Jetrion 3025 significantly increases efficiency by eliminating the re-handling operations required with other types of variable imaging technologies. He notes that high-resolution printing (526 dpi), plus the permanent affinity that Jetrion's UV jet inks have for tough-to-print high-gloss and film substrates, results in harsh-environment labels with unprecedented premium bar code quality and exceptional wear endurance.
"We printed prototype labels with the Jetrion 3025 on many types of harsh-environment substrates and exposed them to extreme conditions in our test laboratory," Parnell says. "They were oven-aged under high temperatures, exposed to solvents, abrasion, and UV. Under every condition, the Jetrion UV ink held up incredibly well under the testing. Most important, the label bar codes remained completely readable."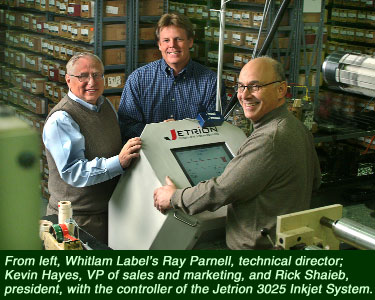 "We're excited about this new technology from Jetrion," adds Hayes. "It has given us some very unique capabilities that we will take to a lot of new markets."
One of those markets is Whitlam's award-winning consumer product label business. (In just the past few years, the company has been recognized for excellence by industry trade associations and customers alike, including the World Label Assn.; the Tag & Label Mfrs. Inst.; Saturn; Toyota; and Dodge, Chrysler & Jeep, to name a few.)
Already in the works are plans to install at least one additional 3025 ink jet head on press to print variable information in formats wider than the 2.4-in. width of the single unit. One Jetrion controller can manage up to four ink jet heads on a press.
Hayes points out Whitlam produces labels for several consumer electronics, lighting, and food companies that use variable information. He notes, "The ability to print variable information on wider labels is useful for applications on durable products like appliances, lawn mowers, and recreational vehicles, or even ingredient information on standard food or vitamin product labels."
Tightening Security
Shaieb cites another fast-growing aspect of Whitlam's automotive label business in which the Jetrion 3025 Inkjet System will play an important role—security.
"Security labeling has become a very large program for us," he notes. "The automotive industry is very concerned about the counterfeiting of aftermarket parts. We have developed an innovative security labeling solution that has become an integral part of the systems used by our customers for identification of parts and packaging. Our engineers have designed certain security features into our labels that are visible only with special equipment."
He says more automotive companies are jumping on board because Whitlam's security features save millions of dollars in lost revenue due to theft as well as counterfeiting. Now the companies can have year-round audits throughout the facilities that use their parts to confirm the products are genuine and to spot any criminal activity in that area of their operations.
"We have a label that works even when it's illegally removed," Parnell says. "You can peel our label off a part and install the part in a different vehicle, and our device will still detect that the part is not on the original vehicle."
It's not uncommon for Whitlam to receive calls from investigators to confirm the security labels of a particular manufacturer have all the identification features in place before they launch a sting operation to catch counterfeiters or chop-shop operators.
Whitlam's drive to innovate has built relationships with automotive customers that go beyond the printing of a label. Many of the companies send engineers to Whitlam to study the process of creating labels for use in their production lines. "Many of them are taken aback by the process involved in producing a label or 'part' as they call it," Shaieb says. "They didn't realize the intricacies involved in engineering a label that will last the life of their product."
Because engineering requests can come in at any time, and often do, Whitlam has a fast-response team set up to react to any urgent request. They have had customers send jets from California to pick up labels that were produced from scratch in a turnaround time of two hours.
Whitlam Label clearly has shown it won't shy away from difficult jobs and constantly looks for new solutions it can bring to its customers. Parnell points to what he describes as one of his toughest challenges—a unique, high-temperature serialized label with paint mask. After it is applied, this label can survive several manufacturing stages, including multiple painting processes and exposure to high-temperature ovens, while retaining its ability to be read with a bar code reader and not losing any of the information associated with the label.
"That was a tough one to figure out," he says. "But it gives you an idea of what Whitlam is capable of when it comes to finding innovative solutions for our customers. That's what we like to do."
---
---
CONVERTER INFO:
Whitlam Label Co.
24800 Sherwood Ave.
Center Line, MI 48015
586/757-5100; 800-755-2235
whitlam.com
SUPPLIER INFO:
Jetrion, a sub. of Flint Ink Corp.— jetrion.com
Mark Andy Inc.— markandy.com
---