Published: May 15, 2019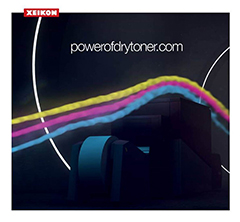 Xeikon, a subsidiary of Flint Group and market leader in digital color printing technology for the graphic arts printing industry, launched "The Power of Dry Toner" campaign during Xeikon Café North America taking place in Chicago, Ill. May 14–16. To coincide with the three-day conference and exhibition, Xeikon announced the appointment of Monika Olbricht as global sales director for graphic arts. Olbricht will take the global lead in shaping this important market and be instrumental in the roll-out of the 'power of dry toner' campaign.
"We are excited to show how dry toner can complement high speed inkjet solutions in the production environment offering the broadest array of high quality, high value and high coverage applications. Xeikon Café North America is a multi-vendor educational and networking event for brand owners, direct mail companies and commercial, label and packaging printers," said Benoit Chatelard, Xeikon's CEO. "Visitors will have the opportunity to attend a variety of panel sessions, keynotes and presentations as well as application and technology demonstrations. Visitors can also meet and network with preeminent industry suppliers and watch daily live production of creative label and packaging applications.
Xeikon continues to work on new technology developments. By consistently improving the capabilities and widening the range of applications on Xeikon's duplex dry toner platforms for graphic arts and commercial print Xeikon is supporting companies in their drive to improve productivity and add value to their business.
"With over five years experience in graphic arts sales for Xeikon I can see the broader picture and the exceptional possibilities offered by Xeikon's innovative technology," said Olbricht. "For some time there was a gap in the provision of high quality print for a diversity of high value applications. This caused a zone of disruption in the commercial print market with no technological answer. Xeikon set out to develop solutions to exactly answer the needs of this sweetspot within the printing marketplace - enter the "power of dry toner' campaign.
"We are committed to helping our customers successfully grow their business," said Chatelard. "Dry toner technology is the most sustainable digital printing technology. It is complimentary to high speed inkjet and can produce high quality results on all types and weights of stocks.
For more information, visit www.xeikon.com.