Published: May 17, 2018
SHENZHEN, CHINA | Fresnels announces the Cellini and Cellini Plus images, named after Benvenuto Cellini, the renowned jeweler and sculptor to the Medicis. The optical nanotechnology imagery reportedly can strengthen packaging brand identity, while simultaneously offering improved resistance to the threat of piracy and counterfeiting. It can be applied by brand owners, printers, and converters using standard foil application techniques.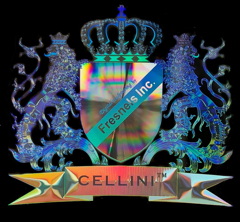 The graphic 3D effects offered by Cellini are achromatic and feature the appearance of sculptured or cast metal. The Cellini PLUS option has additional colored highlights, which can soften the visual effect.
Produced using digital technology with what is said to be nanometer precision, the imagery is currently available in sizes to 8 x 8 in. (20 x 20 cm).
According to the company, hot stamping foil already manufactured using Cellini designs has been applied to folding carton material at speeds to 120 mpm, which is said to make it a highly attractive and cost-effective technique for delivering 3D tactile imagery to packaging without the use of expensive laminates.
Packaging produced using Cellini imagery is fully recyclable, enhancing its appeal as an environmentally friendly option for end-users. Company says cosmetic/fragrance, healthcare, and alcoholic beverage packaging are likely to be initial target markets.