Published: July 17, 2013
BUFFAO GROVE, IL | An ocean reef made from a paper-based packaging structure? Not what one would typically expect. But that's exactly what visitors will see this summer at the Perot Museum of Nature and Science in Dallas, TX.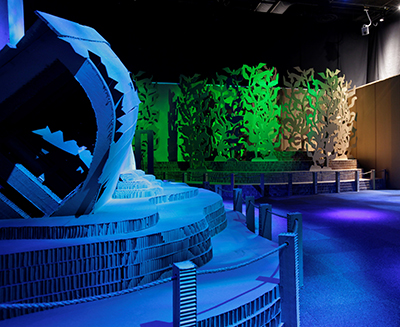 Hexacomb, a BOISE company, has donated several hundred sheets of its honeycomb protective packaging material to the Perot Museum to build Recycle Reef, a temporary summer exhibit which opened to the public on June 17. Hexacomb honeycomb is being used to fabricate an elaborate 4,000-sq ft reef ecosystem—complete with kelp beds, a shipwreck, and deep sea sections. The exhibit's foundation will be made entirely of Hexacomb, including a shipwreck and kelp plants rising up from the sea floor.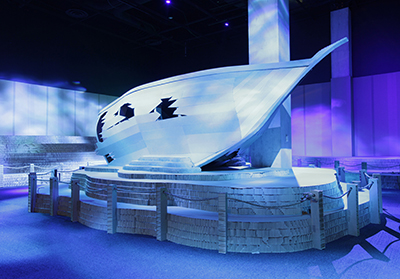 Called Recycle Reef, the exhibit has been designed to promote recycling and also allow visitors to actually participate in creating the exhibit. A 2,000-sq ft section immediately outside the main exhibit, called the "making" area, will feature tables and bins also made from Hexacomb. The area, stocked with child-safe tools and recyclable materials, will be the place where visitors can construct their personal masterpieces. Examples include fish, corals, and other marine life, which they can choose to take home or add to the Recycle Reef. Every evening, a fresh layer of Hexacomb kraft paper will be placed on the tabletops so that the next day's visitors will have clean work surfaces.
Hexacomb is made primarily from renewable wood fibers that have been engineered into a proprietary honeycomb configuration. The product offers excellent strength, superior cushioning and blocking/bracing, and is typically used to protect a wide range of durable goods in transit. These attributes also make it an ideal material for a demanding structural project such as the Recycle Reef exhibit.
"I had seen Hexacomb being used in packaging applications before, so when we were evaluating options for building this exhibit, the material seemed like a perfect choice to support our recycling message. In addition to donating the material, Hexacomb has provided technical information and fabrication assistance. They have been a great partner throughout the project," said Mike Spiewak, director of exhibits, Perot Museum.
Recycle Reef is intended to be dynamic as the exhibit evolves with each newly-contributed sculpture. In keeping with the theme, the entire exhibit will be recycled after it closes on August 25.
"Hexacomb is pleased to partner with the Perot Museum on an exhibit that supports environmentally-positive messaging in such a creative way. Customers in North America and Europe typically select Hexacomb for both its performance and environmental attributes. We are thrilled that our material is now part of an educational and interactive consumer experience," said Darlene Kober, director of global marketing and strategy, Hexacomb.
This email address is being protected from spambots. You need JavaScript enabled to view it.