Published: May 21, 2004, By pffc-online.com
PRESS RELEASE
Appleton reports it has partnered with packaging manufacturer Rock-Tenn Co. in the development of a paperboard-based package with brand protection capabilities. According to the manufacturer, the new product is called Rock-Tenn White Label Security Board. The covert security features of the product include taggants and read-write threads in its face stock, which is made from Appleton's TechMark line of intelligent papers, adds the company.
Says Appleton's director of security products Gary Jones, "Rock-Tenn White Label Security Board with TechMark taggants and machine-readable threads gives brand owners the ability to quickly identify a genuine product from a fake. This is a frontline defense in combating the growing problem of product counterfeiting, piracy, and diversion.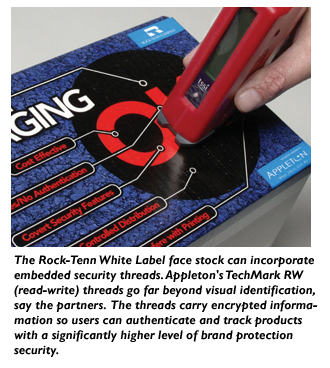 The companies say the new product is targeted to brand owners and manufacturers, for aircraft and automotive spare parts, pharmaceuticals, toys and games, tobacco and spirits, computer hardware and software, and cosmetics.
Appleton says TechMark intelligent papers feature taggants and read-write threads that are part of the actual face stock. The taggants are invisible under ordinary light, but when viewed under ultraviolet, or "black," light they become readily visible and allow for quick visual verification. Also, says the manufacturer, the taggants can be formulated to create a unique identifying code.
"These covert charactertistics, which are very difficult to duplicate or alter, can be analyzed and decoded by a handheld reader. Appleton's TechMark Vericam reader automatically identifies the taggants in the face stock and confirms the authenticity of the product," explains Appleton.
Learn more about Rock-Tenn at rocktenn.com. Visit Appleton at appletonideas.com.
---