Published: April 30, 2004, By Nsenga Byrd Thompson, Associate Editor
A consumer favorite gets a facelift thanks to innovative use of paperboard packaging.
The Paperboard Packaging Council (PPC) announced the winners of its 61st National Paperboard Packaging Competition at a ceremony held March 14 in Chicago, IL, USA.
A total of 100 awards were presented; below is just a sampling of this year's winners.
Pop-Tacular!
Smurfit Stone Container Corp., Chicago, IL, pops to the top with its Family Time Perfect Popper entry in the Bakery Goods category. Winner of both the President's Award and the Innovation Award, the Perfect Popper is described by judges as a "highly unique and visible package versus the traditional methods of packaging popcorn."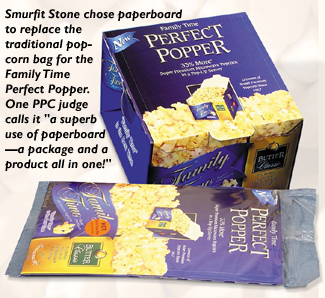 According to Smurfit Stone, Family Time Snacks wanted to reinvent the microwave popcorn experience because most popcorn consumers don't eat out of the bag due to the mess and inconvenience. Instead, they pour the contents into another, more suitable container. Family Time Snacks had a basic concept, flat paperboard carton with a pouch of popcorn glued inside. The consumer "pops up" the carton to cook in the microwave — the carton fills up, the lid peels back, and the carton becomes an instant bowl.
Form Follows Function
Smurfit Stone began with the concept of a double auto-bottom to achieve the necessary convenience of easy setup. The next focus was a grease barrier…the corners needed to be sealed to keep oil from leaking through and prevent wicking and staining. The company decided on a 0.017 dual ovenable, flourochemically treated solid bleached sulfate, a board already approved for direct food contact in microwaves. Smurfit Stone developed a structural design with a leak-tight seal, without compromising the automation, setup, stay up, and the overall functionality of the package, the company reports. The outcome is said to be a structural first. Excellence also is demonstrated in printing and in the die-cutting operation, giving the package a quality look. Printing/coating is five colors, aqueous.
The unique carton was designed simultaneously with an automation equipment development, lending itself to efficient packaging line performance. The outer carton blank is produced and shipped flat to the customer's plant, where a modified folder/gluer first places the pouch of popcorn inside the blank via a rotary pick-and-place and then folds and glues the carton together. An over-wrapper is used in-line to deliver a completely finished product, ready to be shipped.
Judging this year's competition were Todd Hansen, Promotional Industries; Don Crossley, retired from Rock-Tenn Co.; Dr. Kay Cooksey, Clemson Univ.; Richard DePaul, DePaul Assoc.; Karen Proctor Rochester Inst. of Technology; James Peters, J. Peters Assoc.; Jack Williams, retired from Green Bay Packaging; Ben Miyares, Packaging Machinery Mfrs. Inst.
For a complete list of winners, contact PPC at 703/836-3300 or visit ppcnet.org.
---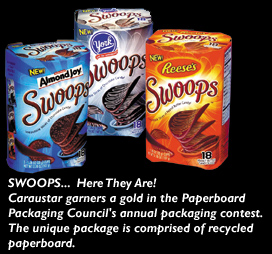 Swoops Scoops Up Gold
In the Confections category, Swoops 3-Pack Cup Wraps, created for Hershey Foods Corp. by Caraustar Custom Packaging Group's Versailles, CT, carton plant, receives a Gold Award for its creative paperboard package. The customer wanted to introduce packaging for a new line of candy products that would be packed in plastic cups.
The company's 0.016 InverKote coated recycled board package matches the physical structure of the plastic cups and, at the same time, provides panels for critical graphic design since this was a new product launch. The structure reportedly helps to brand the new product by name and shape of container, something that is not easily done with paperboard.
---