Published: April 19, 2004, By PRESS RELEASE
HELSINKI, FINLAND—Stora Enso reports it and Xeikon International have entered into a technical cooperation agreement to combine Stora Enso's DBS (Discbox Slider) packaging system with Xeikon digital printing systems. The companies will present the new on-demand production line for CD and DVD packaging for the first time at Drupa 2004.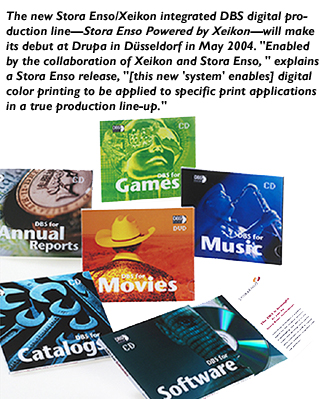 According to the Finland-based manufacturer, the new concept is called Stora Enso DBS Powered by Xeikon. It is an automated online solution for printing, die cutting, assembling, and filling the DBS packs. "Thanks to the integration of DBS with the all-new digital color printing press Xeikon 5000, the system provides shorter lead times, enhanced cost-efficiency, and personalized packages for all CD and DVD formats," states a Stora Enso press release.
The DBS packs are made from paperboard, a material that combines excellent design and printing with low weight, stiffness, and durability. The company also says paperboard is environmentally friendly and a cost-effective solution for disc packaging. The DBS packs are produced with licensed DBS Pac Master machines.
Learn more about Stora Enso's DBS concept at storaenso.com/dbs. Visit Xeikon at xeikon.com.
---