Published: April 01, 2008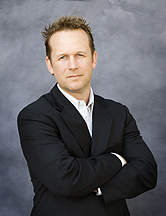 Chief Operating Officer of Master Packaging
Management style | Flexible
Hobbies | An active lifestyle — running, exercise, weights, golf, etc.
How did you get into the converting business? I joined the family business. My father is my mentor, business partner, and best friend.

What are you most proud of in your business? We managed the transition from a small business to a large business without any negative effect on our personal relationships with each other or our families.

What is the key to growing a business in a bad economy? Hit singles and swing at the pitches that you can hit.

What is the key to retaining good employees? Hire the right people to start with. Put employees first; customers will reap the benefits in the end. Encourage leadership and creativity. Retain an open line of communcation. Put forth obtainable, reward-based objectives. Remove any bad apples.

What is the biggest threat to the converting industry right now? Overcapacity is driving companies to make poor decisions on pricing, taking on business that is not profitable but fills their asset base with work. This is leading to degradation in profit margins.

How do you handle a difficult customer? We work very hard at taking away whatever objections they are having and leaving them only with satisfaction.

Are there specific challenges in your region to finding good employees? The cost of living in Tampa is higher than other areas of the country. We often lose prospective candidates once they realize how expensive it is to live here.

What advice would you give someone starting out in this business? From Day One, dress, act, and perform to the level you want to be rather than the level you are at.

Do you have a personal motto or mantra? I have two little girls I read to every night. I recently came across this quote that I took the time to reflect on and write down: "Be who you are and say what you feel because those who mind don't matter and those who matter don't mind." — Dr. Seuss

What keeps you up at night with regard to your business? I sleep great!

What do you know now that you wish you had known when you started out? As we have grown, we better understand how much working capital and equipment reinvestment is required to grow a business of our size in today's environment. Looking back, we would have raised more money and done it far sooner.

What is the best advice you ever got? Regarding marriage, it's better to be happy than right.
About Master Packaging
6932 S. Manhattan Ave.,Tampa, FL 33616; 813-837-1575
Founded 1960
1 plant, 150 employees
Specialty | Flexible packaging
How did you get into the converting business? Share your perspective. Write to This email address is being protected from spambots. You need JavaScript enabled to view it..