Published: November 16, 2018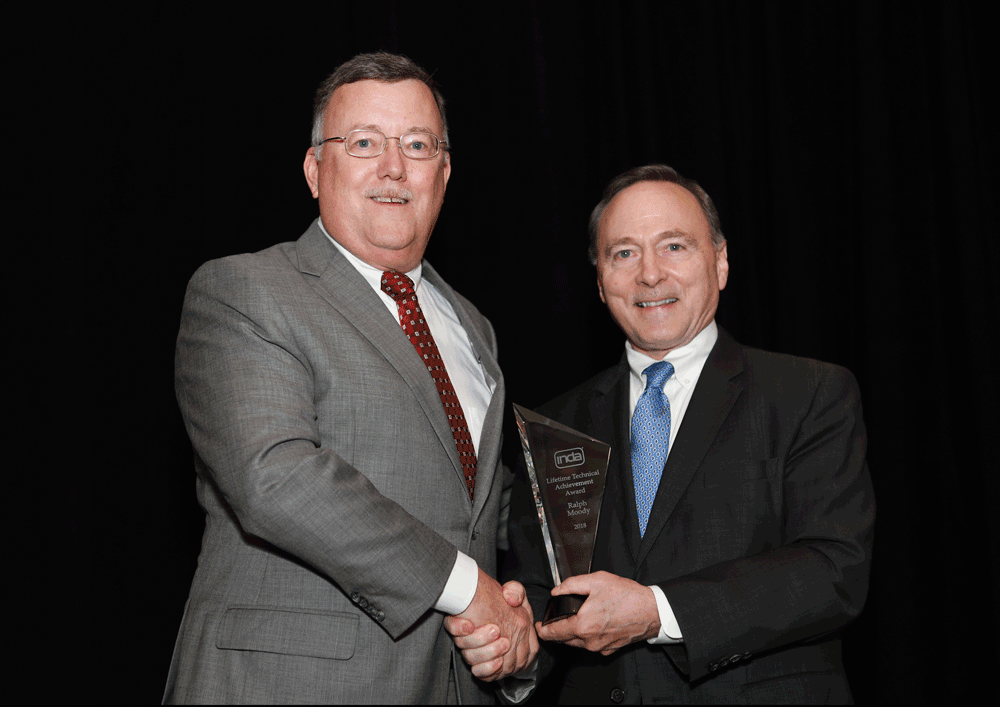 CARY, NC | INDA, the Association of the Nonwoven Fabrics Industry, recognized Ralph Moody, PE, senior director of R&D, Berry Global, Inc. with its prestigious 2018 Lifetime Technical Achievement Award Nov. 6, 2018 before 500 nonwoven and engineered fabric professionals during at the association's annual Hygienix Conference, in Orlando, Fla.
INDA's Lifetime Technical Achievement Award honors individuals with long-established technical careers in the nonwovens industry and an accomplished history of technical innovation.
"Ralph was selected by INDA's Technical Advisory Board, a group of technical professionals from member companies, as most deserving for this year's Lifetime Technical Achievement Award based on an evaluation of his career accomplishments and the Award criteria. Certainly, they were impressed with Ralph's eleven patents, multiple machine start-ups, and leadership role on the Scientific Advisory Board of the Nonwovens Institute at North Carolina State University. He is truly deserving of this prestigious award recognizing his career of service to the nonwovens industry," said Dave Rousse, INDA President during his presentation of the award.
Over his three-decade career, his key major product contributions and multiple product commercializations include:
Installation & Commercialization of the first MEF (Modified Entangled Fiber) spunlace line for Chicopee Food Service wipes
Commercialization of APEX® technology for NuGauze® – J&J's first Nonwoven "gauzelike" sponge
Miratec® Durable APEX® nonwoven material for textile replacement applications
Swiffer®, joint development with P&G and PGI to produce an imaged scrim reinforced dry dusting nonwoven substrate
Kirkland® brand APEX® imaged scrim reinforced Cotton enriched baby wipe
Spinlace®, Berry's spunmelt based wipes substrate
Arium™, Berry's submicron fiber technology
Nuvibond® Berry's Ribbon shaped spunmelt fiber substrate for barrier
Moody holds eleven patents in the nonwovens field and has been involved in the design and startup of ten nonwoven production lines (six in the USA, two in Europe, and two in China). During his career, he held critical roles in Johnson & Johnson (Chicopee), PGI Nonwovens and now Berry Global, Inc.
Moody has been an active INDA Member for over 25 years. He has also been an active member in The Nonwovens Institute (NWI) at NCSU for over 20 years, is the current Scientific Advisory Board chair at NWI, and participates as an Industrial Technical Advisor to Graduate students.
About INDA
INDA, the Association of the Nonwoven Fabrics Industry, serves hundreds of member companies in the nonwovens/engineered fabrics industry in global commerce. Since 1968, INDA events have helped members connect, learn, innovate and develop their businesses. INDA educational courses, market data, test methods, consultancy and issue advocacy help members succeed by providing them the information they need to better plan and execute their business strategies. For more information, visit www.inda.org.