Published: January 12, 2018
WAUKESHA, WI | Wildeck has been awarded U.S. Patent No. 9,834,975 for its "Hazard Alert Device for Elevated Barrier," known commercially as the EdgeAlert Open Gate Alarm System.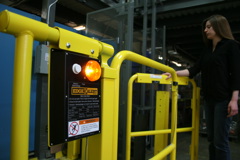 Company says in today's busy distribution centers, warehouses, and manufacturing facilities, an open gate on an elevated mezzanine level is a serious safety concern that could result in an employee falling and sustaining severe injury. When properly installed, the EdgeAlert alarm will signal an open gate condition with a highly visible flashing light and a loud audible alarm. Use of the system can also assist facilities in compliance with federal and state safety regulations.
The EdgeAlert alarm is said to be easy to operate and can be installed on new or existing swing gates, slide gates, tilt gates, and scissor gates. For maximum visibility at elevated and ground levels, amber-colored LED lights are located on the front and back of the alarm enclosure. When a gate is being used, workers may choose to silence the EdgeAlert alarm for 120 seconds by pressing the "Snooze/Acknowledge" button. However, during this brief loading or off-loading period, the highly visible warning light continues to flash.
Once an open gate has been closed and secured, users can reset the EdgeAlert alarm by pressing the "Snooze/Acknowledge" button again, or simply opt for the Automatic Reset mode.
This email address is being protected from spambots. You need JavaScript enabled to view it.