Published: July 31, 2005, By PFFC staff
Narrow Web Machinery, Accessories, Services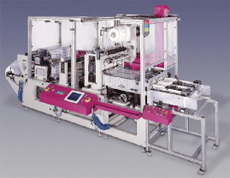 Produce Thin In-Mold Labels
Schober USA, Cincinnati, OH; 513/489-7393; schoberusa.com
RSM rotary die-cutting systems are designed for converting thin-gauge-film, in-mold labels at speeds to 230 fpm. The system unwinds label rolls; die-cuts labels; counts, stacks, and delivers (different options available) labels; and rewinds waste matrix. It is tension controlled and suitable for labels of any size and complexity, company says. Registration is monitored constantly so print-to-cut accuracy of 0.015 in. is maintained at 95% of production. Ideal for labels, tickets, paper, and plastic cards, etc. Web widths from 10–26-in. can be accommodated with a maximum roll diameter of 39.4 in. Pneumatic roll lifting capacity is 440–1,135 lbs.
---
Engrave Sleeves and Plates
Lüscher Flexo, Thame, Oxon, UK; +44 (0) 1844 267021; luescherflexo.co.uk
The FlexPose! Direct laser engraving system is used to engrave both sleeves and plates. The 250L Model, developed specifically for label applications, can be used to engrave flexo and letterpress plates as well as screens.
---
Calculate Optimum Layout
Alterio Assoc., Medford, MA; 781/492-3896; alterioassociates.com
The Metrix system, suited for the tag and label industry, calculates instantly all types of layouts, considering production requirements such as bleed, grain direction, press capabilities, and postpress processing. Calculates optimum layout for each press sheet. Handles all flat and folded product via export of JDF folding instruction data. Integrates with a wide range of prepress workflows.
---
Printer Allows Individual Solutions
Sato Corp., Charlotte, NC; 704/644-1650; satoamerica.com
The Xle prints, cuts, and stacks tags and labels. Available as direct thermal or thermal transfer, printer features a movable sensor that allows for an endless choice of media, company reports. Intelligent printhead regulates printing temperature, which optimizes the print quality, and the cutter/stacker enables user to select a solution suited to individual application. Features a 32-bit RISC processor said to ensure high-performance, high-speed printing.
---