Published: July 31, 2005, By AWA Alexander Watson Assoc.
---
Part 1 | Part 2
---
To view this special report as a PDF, click the link below:
---
Tailored Defense
Brand protection covers both reality and perception: It involves guaranteeing the integrity of a product by discouraging counterfeiting or tampering and provides customers the peace of mind of buying a product that meets their needs in terms of perceived purity, safety, and authenticity.

The threat of product tampering or counterfeiting is unfortunately a reality today—particularly in such fields as high-value spirits and other alcoholic drinks, perfumery, fashion clothing, sporting goods, computers, software, and electronic goods in general, as well as automotive and other engineering product components. Some companies estimate that 10% of the products sold under their brand names are counterfeit.

Counterfeiting is also a problem in the world's developing economies: Russia's Patents Agency estimated recently that in excess of 40% of all vodka carries a fake label, and multinational companies active in Russia—some of which have banded together to form an action group—quantify the costs of counterfeiting (including legal costs) at more than $1 billion/annum.

Under these circumstances, it is hardly surprising brand owners are willing to pay whatever is necessary to protect their brands with security labels—and roll-fed, self-adhesive technology is their first choice and the most flexible, variable, available option.
A Matter of Degree
The questions a brand owner needs to consider when evaluating the addition of security features to a particular product's packaging are the degree of protection required, the budget, and the compatibility of the chosen solution with the company's production, packaging, IT, and logistics systems. Most of the available solutions at all levels, from simple to sophisticated, involve a self-adhesive laminate and can be converted readily on narrow web presses. The "special ingredients" necessary are relatively easy to source today. Security labeling in all its forms is a lucrative, added-value niche market for label printers in a marketplace where margin can be difficult to come by.

Whatever a brand owner's needs, capable security label converters are key to translating those needs into what often can be a customer-specific solution. This is particularly true of the self-adhesive label, which has proven to be the most flexible "carrier" of security devices of all kinds. The key is the almost infinite variability of the self-adhesive laminate (face material—paper or film—plus adhesive and release liner).
Seal Security
The label facestock itself can be frangible and therefore tamper-evident. Security devices and taggants also can be embedded under or on top of the facestock, or even printed onto it. Taggants can be added to the adhesive layer, and the intrinsic strength of the silicone-coated release liner ensures labels will be located accurately on the packaging for optimal performance and scannability.

There is an extraordinary choice of methods based on self-adhesive technology that will identify clearly when a label, seal, or closure has been removed, opened, or otherwise changed. Standard paper label constructions with a low internal strength, coupled with an aggressive permanent adhesive, can be perfectly adequate for some requirements, but additionally there are specialty stocks for critical applications. These include ultra-destructible papers and films and a full range of thermal transfer and hot laser printable "VOID" polyester materials in white, transparent, and silver (with customer-specific imprints available on request). These films reveal a hidden "footprint" on both label and substrate when the label is removed or tampered with and can visibly display the word "VOID" or other customer-specific wording, or where required, leave a message on the substrate that is readable only with a UV light source. Simple heat-shrinkable, self-adhesive cap seals are another option.
Customized Solutions
Security label solutions based on special facestock treatments can be sourced from leading self-adhesive label stock suppliers such as Raflatac's Rafsec and Avery Dennison's Fasson Specialty portfolios. With all the security technology contained in the label stock, the converter's job is simply to create the right label for the task on hand. Options include two- or three-dimensional customer-exclusive "watermarks"—nylon fibers of a specific length or color, readable only in UV or IR light—in the label face paper or film. Metal strips or fragments, which can be either highly visible (e.g., iridescent) or invisible to the naked eye, also can be embedded in the facestock. Polyester security threads, thermochromic threads, and micro-marked fibers are other possibilities. Solvent-sensitive papers, developed to prevent information from being removed with solvent, also are available: They react visibly to any solvent contact. Special iridescent security color stripes, impossible to reproduce by color copier, offset process, or PC printers, can be applied to some paper facestocks to prevent counterfeiting. Using near-IR fluorophores, chemical taggants, or microtaggants (even DNA), state-of-the-art covert (invisible) product identifiers, accessible only via special scanners, also can be built into the label construction. Banknote print and security inks can support and enhance these features.
Optically Variable Device (OVD)
Based on hologram technology, OVDs are a popular method today of achieving product security, either using standard or self-adhesive film, foil, or paper products, or through customized "wallpaper" designs, logos, or brand names.

The most popular form of OVD, the DOVID (Diffractive Optically Variable Image Device), includes all the holographic options. Developed from decorative metallized applications to enhance on-shelf packaging appeal, they actually can combine this attribute with the more important security functions at a reasonable cost. There is even an ink available today from XSYS Print Solutions, HolographINK, which makes the process even simpler for the label converter. Holograms are well used in the pharmaceuticals industry (Glaxo was among the first to employ the technology many years ago to provide a holographic, self-adhesive seal for packs of their Zantac medication and still use it today), and as seals on CD jewel cases in the music industry.

Production of high-security DOVIDs is computer-based and can be very technical, but sophisticated brand authentication can be achieved using these devices in all their various forms. They can be three- or two-dimensional holographic images (cost is the only restricting feature) created using diffractive metallized films and papers. They can include image changes (simulated movement) and also emulate the security features of banknotes, including micro-lettering and other covert features that are virtually impossible to copy. They also can be included in the product's bar code.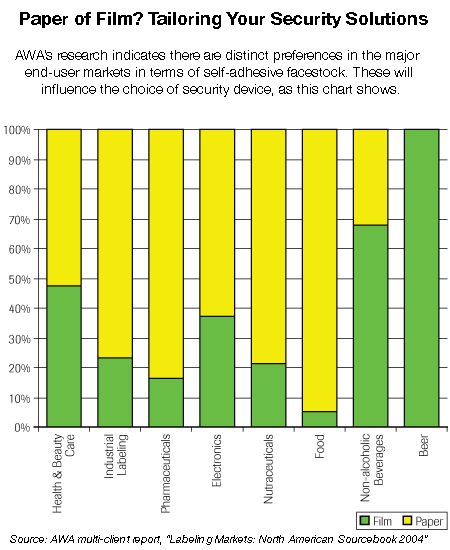 Today, in-store electronic inventory surveillance to minimize inventory "shrinkage" is achieved using three main technologies: electro-magnetic, radio-frequency, and acousto-magnetic systems. All require very tightly specified security tag solutions. In a self-adhesive laminate, carriers for the thin metal strips that represent the security taggants can be coated or uncoated papers, thermal papers (for bar code and other variable information print), or films. An opaque layer of permanent, high-tack adhesive holds and conceals the security elements.
RFID: The Future?
For full product traceability and anti-theft protection, the RFID (Radio Frequency Identification) tag can offer the leading-edge solution in the form of a highly compact transmit-receive coil antenna circuit, transponder microchip, and capacitor. The tag can be scanned at any point in the supply chain and the resultant data relayed back to a host computer and verified. Again, the self-adhesive laminate has proved the ideal carrier for RFID chips, and this is genuinely an opportunity market for roll converters.
The EMID Alternative
An alternative technology is now developing alongside RFID—EMID (ElectroMagnetic Identification). The system is particularly interesting for authentication of high-value pharmaceuticals. EMID tags, embedded in, for example, a blister pack or a wraparound self-adhesive label, can be scanned through other exterior packaging materials without breaking the tamper-evident pack seal. A further advantage is that, for added security, it can be linked to a bar code on the outer packaging to create a unique identity for the pack as a whole.
Making the Choice
Security taggants can, and do, provide the solution that manufacturers want for the authentication of their brands, for tamper-evidence and for anti-theft protection. The challenge for brand owners is to define the nature of the solution they require; to set it in the context of their manufacturing, packaging, and supply chain systems; and to establish an appropriate budget. The security industry—from the electronics specialists and other raw material suppliers, through the self-adhesive laminators and ancillaries suppliers, to the narrow web self-adhesive label printers that will finish the job—is more than qualified today to do the rest and make a good profit.
---
---
Conference to Focus on Brand Security Solutions
There is no more dynamic area than product authentication and brand security. This is true particularly in the emerging economies, where the drive to make money by counterfeiting everything from medicines to sporting goods and automotive aftermarket parts is strong. The consequences cost brand owners millions—and in some cases, cost consumers their lives.

The AWA Product Authentication and Brand Security Conference (PABS) is held annually in North America, this year in Hilton Head Island, SC, October 3–5. It will focus on the challenges facing the industry but, more importantly, on the many opportunities and solutions to those challenges that experts in brand security and product authentication at all stages of the supply chain can provide.

The conference agenda will cover topics of value to regulatory and legislative authorities, security solutions providers, material suppliers, coaters and laminators, converters, and of course, the brand owners and their retailers. In addition, an important industry alliance will be launched during PABS 2005.

Details are available via the AWA Web site, awa-bv.com.
---
---
Part 1 | Part 2
---