Published: February 28, 2005, By Edward Boyle, Contributing Editor
Trim Removal
As a 30-year veteran of the printing and converting industry, Mike Felitti proudly describes Labels & Systems, his four-year-old narrow web label company, as a "lean, mean, printin' machine." And he's got the numbers to prove it.
With just five employees, including himself as owner and general manager, the Tampa, FL-based company exceeded 2004 revenue projections of more than $1 million by 21%. Its single 10-in., eight-color, Mark Andy 2200 press with one UV curing station converts as many as 6 million labels a day in its one-shift operation. And Felitti, the former owner of a much larger printing company, says this is only the beginning.
"It's growing by leaps and bounds," he says. "We've been able to pay all of our bills since day one. The press is paid off. We've done really well."
With one press operator, two rewinders, and a shipping clerk, Felitti and company serve nearly 1,000 customers nationwide, from a sausage packer in southern Georgia that orders just 50,000 labels a year to a major national chain that requires 40 million labels annually. A majority of its orders are between $400 and $1,100 per job.
And the company does it all from a 3,000-sq-ft section of an old 80,000-sq-ft cigar factory, which his business partner, Jeff Freeman, has owned for several years. (Felitti says business has been so good that he's already looking to relocate to a separate 10,000–15,000-sq-ft building.)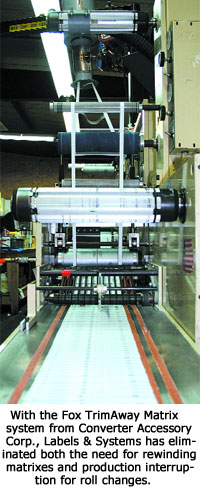 Politics and P-S
Labels & Systems specializes in pressure-sensitive labels and non-p-s tags in sheets and rolls. Products include packaging labels for jars, cans, and bottles, including products with tamper-evidence capabilities. An important niche market is labels for political applications, such as unique, eye-catching "I voted" stickers the company produces for many states, counties, and municipalities across the country.
Felitti says Labels & Systems "was basically started out of necessity." Felitti spent five years as a print broker, but ultimately got tired of getting "stuck in the middle" when other label converters couldn't meet the needs of his clients. So, he went back to serving them himself.
"This company was started out of desperation," says Felitti, although his own entrepreneurial drive has been key to both its launch and its success. He was able to retain more than half of the customers he had recruited as a broker when he started Labels & Systems, and as a result had about $260,000 in annual sales "in my pocket" before the first plate was mounted.
His dedication to quality and customer service has brought in hundreds of customers. Now that he can personally deliver as a converter what he could only promise as a broker, both he and his customers feel a whole lot more secure.
"If we didn't have a ready-made market, we couldn't have done it," Felitti says of establishing his new company. "When my old customers heard I was producing again, they started rolling back in. And each one of them makes a referral to somebody else, so it just keeps growing by leaps and bounds.
"I tell people, 'You can get what we make anywhere, but you can't get us.' We try to educate people, help them, give them what they need instead of what they're asking for, because most of the small customers we work with don't know what they need; they don't know how to go about it. They don't know the materials. They don't know the processes. And that's okay, because we do. We're not talking about Procter & Gamble here; we're talking about small-town USA, and we sell all over the country."
Matrix Rewinding Eliminated
The key to his small company's success, says Felitti, has been extensive planning at startup and running an extremely efficient operation. Labels & Systems greatly improved that efficiency, he says, with the installation of a Converter Accessory Corp. (CAC) Fox TrimAway Matrix system engineered specifically for matrix removal in web widths to 22 in. at speeds to 700 fpm.
The new system eliminates both the need for rewinding matrixes and production interruption for roll changes. The elimination of matrix rewinds also helps reduce web tension fluctuations caused by increasing matrix waste roll diameters. Frequently, tension increases derived from large matrix rewind rolls cause matrix breaks and require time-consuming re-threads, especially with thinner gauge, narrower width materials.
As evidence of the waste removal system's efficiency, Felitti points to one 15,000-ft job that originally took four days to complete because of slower press speeds and frequent downtime from waste matrix breaks. The job, with 10.5-in. repeats, would at best run to 1,300 ft before the waste roll collapsed. With the Fox TrimAway in place, Felitti was able to run the job at a steady 300 fpm until the paper ran out.
"We ran an order, which took four days the last time, in one day and shipped the next," notes Felitti. "As a bonus, thanks to how gently the CAC system handled the waste matrix, we were able to trim the web down an inch, without breakage, and bring waste to less than one percent. In the long term, between increased speeds and reduced material waste, we expect a return on our investment in the Fox in two years or less."
The Fox Matrix removal system is "dry" and does not require the use of lubricating powders or oils that can have a negative impact on adhesives and p-s labels.
Also, since it does not rely on the matrix web strength for smooth rewinds, it allows converters to use finer, narrower, less wasteful materials, eliminate cores, and even interface directly with an on-line recycling system.
Waste matrix material can be transported up to 60 ft. The CAC Fox TrimAway Matrix is said to be effective with nearly any shape and size material.
Designed to be fitted to existing lines easily, the system reportedly can be mounted to a 3-in. rewind shaft and be fully operational in about 15 min.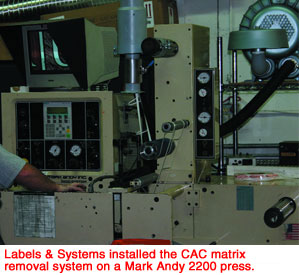 Made to Measure Press
Felitti says he chose the eight-color, Mark Andy 2200 as his first press because he was familiar with the company and its vast product line. He first looked at a Scout press, but at 6 ft, 3 in. tall, Felitti jokes that he wanted something "more my size." He felt the 2200 offered him the sturdiness he needed in a high-production press and that eight colors offered the flexibility to add and move die stations and UV curing units to convert almost any job his non-Fortune 500 customer base could require.
"I didn't want to say later, 'I wish I'd have gotten this; I wish I'd gotten that,'" explains Felitti. "So we started out with everything, and we went from there. If I buy another one, I'll probably get the same thing, except it will probably be a six-color. We're going to take some of the two-, three-, and four-color work and put it on the smaller machine."
In addition to its Mark Andy press and the CAC waste removal system, Labels & Systems has an in-house, state-of-the-art Mac-based art department that is central to a fully automated prepress operation with a RIP-IT open rip step-and-repeat system using an Agfa Imagesetter. The company increases internal management efficiency using Label Traxx management software from Tailored Solutions that handles everything from estimating to billing.
"Our goal is to simplify the process so that no matter what we do, there's no struggle," explains Felitti. "Struggle costs money. I know that from experience."
Even though Labels & Systems is arguably one of the smallest of the nation's thousands of label companies, at least in terms of employees, the company has turnaround times that rival the largest converters. Felitti says this is all part of serving customers that run as leanly as his own company does.
He notes that many of his company's customers are startups or small manufacturing facilities that don't have an in-house artist or an ad agency, yet often require the fastest turnarounds to keep their own product going out the door. Labels & Systems responds by keeping an extensive inventory of inks and substrates—Fasson is its major paper supplier—on hand at all times and by preparing all of its own film and plates.
"If we don't have everything on hand to get the job done now, that puts us in line with everybody else," explains Felitti. "It's wait for this and wait for that. We ship almost every order we receive within three days of the time the process starts, and that's almost unheard of. It's not because we've got nothing better to do; it's because I don't have the patience for the stuff to hang around.
"Everything I do has a sense of urgency, whether by the customer or by us. You ask us for a quote, you get it within 30 minutes. When I get an idea, I'm going to act on it now. It gets me in trouble sometimes, but I figure [that kind of service] is what sets us apart from everybody else."
---
---
CONVERTER INFO:
Labels & Systems Inc.
2301 N. Albany Ave.
Tampa, FL 33607
888/357-7468; labels-systems.com
SUPPLIER INFO:
Converter Accessory Corp.—handleyourweb.com
Mark Andy—markandy.com
Avery Dennison, Fasson Roll North America—averydennison.com
Tailored Solutions—labeltraxx.com
Agfa Corp. —agfa.com
---