Published: January 31, 2005, By By Edward Boyle, Contributing Editor
Narrow Web Machinery, Accessories, Servies
Verify Bar Codes On-Line
Axicon CodeMaster, Cincinnati, OH; 866/328-7259; axicon.co.uk
An ANSI/ISO/CEN on-line version of company's bar code verification range is designed for use with any of its read-heads. Users will have the ability to use as both an on- and off-line verifier. Offers full auditable traceability.
---
Management Solutions Offered
Computer Productivity Services, Oakville, ON, Canada; 888/867-4741; cpsinc.ca
Microsoft Business Solutions Small Business Financials 8.0 North American Edition with company's Print Management is an integrated business management solution for label converters. Covers financials, fixed asset management, sales, purchasing, inventory, payroll, and reporting. Features multi-user access, unlimited storage capacity, and the ability to grow with customer needs.
---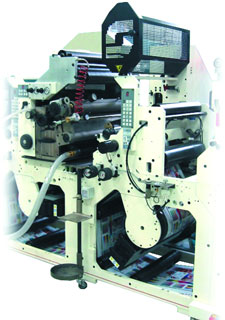 Gravure Unit Adds Benefits
Omet, Lecco, Italy; +39 (0) 341 367513; omet.it
The Varyflex press now offers a rotogravure printing unit that uses solvent-based metallic inks or laminating glue. Metallic effects can be achieved at higher speeds and lower costs than with hot foil, says company. Reportedly, unit can be inserted into the press easily at any required position and can be moved easily.
---
Monitor Multiple Locations
Tailored Solutions, Milwaukee, WI; 414/774-9997; tailored.com
Label Traxx software now includes the capability to monitor operations at multiple plants. Transactions are coded automatically to the appropriate location, and data such as inventory values, accounts payable/receivable, and general ledger entries are attributed to the proper site. Financial data may be consolidated by transmitting information to the company's Financial Center module using an encrypted SOAP protocol.
---
Expand into Film with Press
Comco, a div. of Mark Andy, Chesterfield, MO; 636/532-4433; 800/700-6275; markandy.com
A new focused-niche configuration of the ProGlide FLX (Film Label Expansion) press is designed for the converter who wants to expand into film substrate applications. The heavy-duty press also is capable of servicing traditional application designs with high productivity, company reports.
---