Published: December 31, 2004, By Nsenga Byrd Thompson, Associate Editor
Synthetic Papers
As you enter the Web site multilabel.com, a typed message scrolls across the screen to potential customers:
"Mr. Client, your mission, should you accept it, is to find the very best prime labels in the world. If you or any member of your team should choose any supplier that is not Multilabel, the consumers will disavow any knowledge of your products."
As the typing finally halts, the screen goes black, a time bomb at the bottom of the screen ticks rhythmically, and the familiar tune of "Mission Impossible" pumps through your computer as you channel Tom Cruise,s Ethan Hunt (or Peter Graves, Jim Phelps if you prefer). As the Multilabel home page is revealed, you are asked to "Imagine the Impossible."
Multilabel takes this confident stance with an impressive portfolio of prime labels from which to choose. Opening its doors in Argentina in 1992, the converter has expanded̵launching Multilabel do Brasil in 2000 with a third plant scheduled to open in Mexico by the end of the year—to provide pressure-sensitive and in-mold labels to a host of markets including food, promotional, and security.
The company can print up to 13 colors simultaneously using letterpress and UV flexo (on a combination press from Kopack Intl.), as well as UV silkscreen, and offers state-of-the art prepress capabilities.
For its steadily growing in-mold label business, Multilabel relies on Yupo Corp., a producer of synthetic papers, to supply high quality substrate for its high-end labels. With end-use clients including ExxonMobil, Knorr (Unilever), Kibon, Aguila, Quaker State, Shell Oil, Sancor, Frio Crem, Ancap, Quimica Amparo, and Graham, Multilabel contends it can rely on nothing less.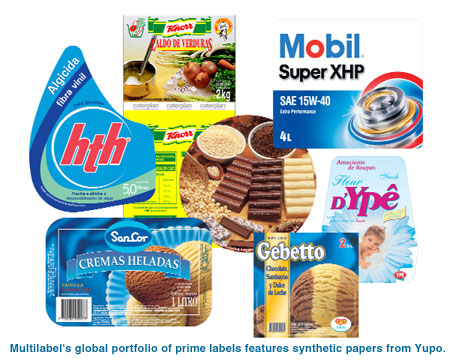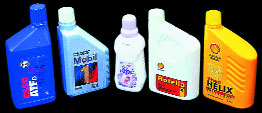 Getting Results
Multilabel uses YUPO ITE 105 for blow-molded containers and YUPO FPG 80 for injection-molded labels. "We,ve found these [in-mold labeling synthetic papers] offer superior reproduction qualities and important cost efficiencies," says Eng. Luis M. Garcia, president of Multilabel Argentina and Multilabel do Brasil. "They are also extremely durable," commends Garcia. "Our clients are very pleased with the end results."
Multilabels, commitment to the Yupo brand reportedly has made it the largest consumer of Yupo,s in-mold papers in Argentina. In addition to the durability and reproduction qualities, Garcia maintains the paper eliminates the need for adhesive and helps reduce overall resin weights used to make in-mold containers. "The adhesive or the hot melt always works," raves Garcia. "The material has been treated to reduce the level of static. This is one of its biggest strengths."
Multilabel,s converting operation also features in-line and off-line hot stamping, six Rotoflex rewinders, inks supplied by Sicpa and ANI Printing Inks, special varnish by RadCure Corp. and Northwest Coatings, adhesives from Beacon Adhesives, and p-s paper supplied by Avery Dennison/Fasson Roll North America.
With the consistency, durability, and what Garcia describes as Yupo paper,s brilliant whiteness, Multilabel is taking in-mold labels to new levels—a concept not likely to self-destruct in 30 seconds.
---
---
CONVERTER INFO:
Multilabel Argentina S.A.
Buenos Aires, Argentina; +54 11 4374-8182; multilabel.com
Multilabel do Brasil
Sao Paulo, Brasil; +55 11 5641-4573; multilabel.com
SUPPLIER INFO:
Yupo Corp. —yupo.com
Kopack Intl. —ko-pack.com
Sicpa—PFFC-ASAP 303. sicpa.com
ANI Printing Inks—PFFC-ASAP 304. aninks.com
RadCure—PFFC-ASAP 305. radcure.com
Northwest Coatings—PFFC-ASAP 306. northwestcoatings.com
Beacon Adhesives—PFFC-ASAP 307. beaconadhesives.com
Avery Dennison—PFFC-ASAP 308. fasson.com

---