Published: September 30, 2004, By Edward Boyle, Contributing Editor
Breaking with tradition, Hub Labels brings the flexibility of Gallus presses to its showcase facility.
Loyalty is the key to operating any successful business, says Bud Dahbura, founder and president of Hub Labels. Loyalty from your customers and loyalty to your vendors. He has made that the cornerstone of his company's two decades of success, a philosophy that is shared by every one of Hub's more than 130 employees.
"I learned that from my dad," explains VP Thomas Dahbura. "I really, truly believe in building relationships, both with customers and vendors. You'd never want to disappoint your friends, and we carry that philosophy over to our business relationships as well. It's the only way we know how to do business."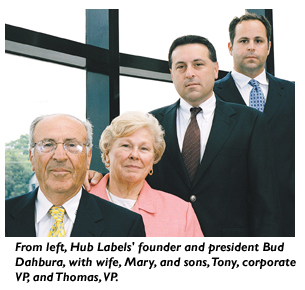 There's no arguing with success. The company's 110,000-sq-ft facility in Hagerstown, MD, is the largest site in the US dedicated to converting pressure-sensitive labels, according to the company. Its capabilities include up to 15-color printing, with in-line embossing, hot stamping, and screen printing. From there, Hub Labels serves an "extremely diversified" customer base that cuts across virtually all market niches, says Thomas Dahbura.
"We're represented pretty well in all the markets," he explains. "We don't have to be known as a specialist for only one kind of thing. That's how you get into trouble. You're riding the wave of that one thing, and if it crashes, you don't want to be there."
Until two years ago, however, the nearly two dozen presses Hub used to convert millions of labels each day weren't nearly as diverse. The mix of equipment was able to produce acceptable quality, says Dahbura, but changeover times and a high learning curve were challenging Hub Labels' ability to maintain consistency and shorten lead times.
So, when it came time to add yet another press to its arsenal, Dahbura and his executive team brought in representatives of most of the world's leading label press manufacturers and heard first-hand about the latest technologies available to improve quality and speed delivery. That's when the company decided to break with tradition and bought its first Gallus press, an eight-color, 13-in. RCS 330 servo-driven flexo model, which was the first of its kind installed in North America.
"It didn't take us long to decide the RCS 330 was going to be our leap into the future of flexo printing," notes Dahbura. "Because this press is servo driven, it's just the best — the best flexo press in the world."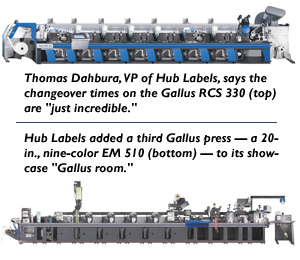 Quick Learning Curve
The highly automated Gallus RCS 330 modular UV platform press reportedly has short set-up and changeover times and automatically adjusts web tension, register, and other critical job functions, making it ideal for short- to medium-sized runs, says Dahbura. The press, which uses single-drive technology, can incorporate screen and hot stamping units for maximum quality and flexibility while printing at speeds to 525 fpm.
Ironically, although the RCS was the first Gallus press Hub Labels ordered in June 2002, it actually took delivery of a nine-color, 16-in. Gallus EM 410 six months before the RCS was installed. While waiting for the RCS 330 to be delivered, Dahbura made a brief visit to Gallus's Philadelphia headquarters and saw a demonstration of the EM 410 — and bought it right off the floor.
Dahbura said he first "fell in love" with the Gallus EM 410 when he saw one in action at an Avery Dennison facility in England during a two-week visit in 1995 and couldn't wait to bring one in-house.
"That machine was just incredible, running 8½ by 11-in. business forms all day long at speeds of 500 fpm," recalls Dahbura. "The fact that it was a platform press made it very flexible. Ever since then, I wanted a Gallus press, and the machine hasn't been a disappointment. It's taken the workload off of our water-based presses like you wouldn't believe."
When the RCS 330 was installed in December 2002, it quickly became a workhorse, ultimately doing the work of two of the company's other 16-in. presses. The press ran more than 1.1 million m of material in its first six months. In addition to the RCS 330's advanced technical capabilities, Dahbura says the press's quick learning curve was a critical factor in choosing that machine. He cites studies showing that press operators tend to spend an average of less than six years with a single company and noted that it generally took about one year for pressmen to become proficient in operating any one of Hub's other presses.
"The reason we bought the RCS was because we were running into some skill roadblocks with personnel," Dahbura explains. "With the other presses, the operators took a lot of time to get up to speed and become skilled, and we couldn't continue to operate like that. So I said, 'Let's look at different technologies; let's look at servo-driven presses, presses that require less skill and have a shorter learning curve.' Our original strategy was to go after high-end work on the RCS, but we're finding the cycle time to get that kind of business is very long. So we had all this other business already in-house that we found we could produce even more profitably by moving it over to the RCS 330, where set-up times and waste are both a lot lower.
"The changeover time on that press is just incredible," Dahbura adds. "They'll change jobs in ten minutes. The operators are just cruising through work."
Dahbura tells the story of how he arrived for work one morning only to find the RCS 330 sitting idle — because the previous shift already had completed that day's work schedule. Dahbura says the company has enjoyed similar results with the 16-in. Gallus EM 410 platform press.
Although most of Hub Labels' jobs are still printed on paper, the increasing demand for film labels requires presses that can move easily between the two. The servo-driven RCS 330 press can convert film stocks down to 48 ga at speeds to nearly 500 fpm. Dahbura says the press also can be converted from flexo to screen quickly without breaking the web.
"I'd be confident in saying that those two presses have easily replaced six of our other presses," says Dahbura, noting the added efficiency of matrix removal and butt-splicing systems incorporated onto both Gallus units. "The presses are just fantastic. They run really fast and they're real simple to operate."
Adds plant manager John Flannery, "I would venture to say that we'll never buy another flexo press other than Gallus."

A Showcase Pressroom
With the success of its first two Gallus presses, Hub Labels added a 20-in., nine-color Gallus EM 510 late last year. All three presses are housed in a special 5,600-sq-ft, climate-controlled "Gallus room" that acts as a showcase for visiting customers. Customers routinely visit the company to conduct on-press job inspections or to learn more about Hub's state-of-the art prepress and printing capabilities, including an HP Indigo digital press.
"We offer plant tours for two reasons," explains Flannery. "One, because we run a very clean operation, and we've invested a lot in our image. We also like them to see our capabilities. It's even better if they've visited other facilities, because we're confident that ours is a heck of a lot nicer than 90 percent of the facilities out there. We show our prepress department, our platemaking capabilities, and the pressroom. [Once] you get the customer here, it's a huge selling tool."
Hub Labels has come a long way since it was established in the US in 1978. (Bud Dahbura actually started his first converting operation in El Salvador several years earlier.) Its first US press was a 7-in., 3-color model. The company gradually added 20 more presses, including 10-in. and 12-in. six-color units, before installing its first Gallus. Now, Dahbura says the company is looking to replace some of its older presses with additional Gallus EM 280s.
"We're definitely a Gallus house now, no doubt about that," says Dahbura. "It's really been a turning point for our company. My father had developed a relationship with our major press supplier, and it was tough for him to buy another [company's] press, but he did, and he hasn't regretted it. I mean, they're expensive machines, but they're good machines. You really get what you pay for."
As with the other suppliers, Dahbura says he is proud of the relationship he and his employees have been able to establish with Gallus in the past several years.
"We spend a lot of time working with our vendors, getting to know them, because when things go wrong — and it's not necessarily the fault of our suppliers — it's good to have people there that you have a good relationship with," says Dahbura. "I've called the guys from Gallus, and they'd be at home, and they call me right back. That means a lot to us."
No doubt it means a lot to their own customers as well.
Converter Info
Hub Labels Inc.
18233 Shawley Dr.
Hagerstown, MD, USA 21740
301/790-1660; hublabels.com
---
Supplier Info
Gallus Inc. —gallus.org
HP Indigo —hp.com
---