Published: August 31, 2004, By Edward Boyle, Contributing Editor
Retrofitting servo drives on its narrow web presses gives Discount Labels the ultimate in precision and control.
Discount Labels is best known as one of North America's largest converters of pressure-sensitive labels, converting more than 2,500 jobs a day for a customer base of more than 50,000 label users. But the company just as easily might qualify as one of the country's biggest press manufacturers as well.
Nearly all of the 90 presses in operation at its New Albany, IN, headquarters — with the exception of a handful of Webtron (now PCMC) and Manhasset (no longer manufactured) machines — are proprietary units built and maintained by the company's staff of six in-house machinists, headed by R&D manager Harold Renn. About 45 of those are multi-color presses that have maximum widths of 13 in. and can print as many as 11 colors; the others print just one color. Even its few manufacturer-produced presses have been overhauled to meet the company's specific tolerance needs.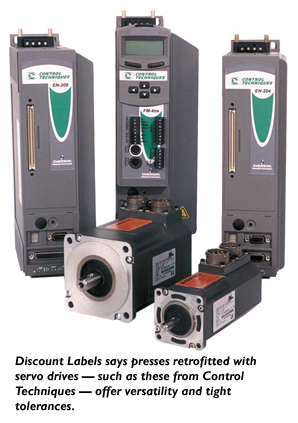 Discount Labels operates the majority of its home-grown presses at its 200,000-sq-ft headquarters, which employs about 650 employees. Finished product runs range from 250 one-color labels to millions of four-color process labels, although an average run length is just 2,500 labels.
Pat Evans, VP of operations, says Discount Labels had to develop its own presses to incorporate the various technologies needed to meet its customers' diverse needs, which often require tight tolerances and exacting registration. "All of our presses have been through Harold's department and revamped to hold the tolerance that we need," explains Evans.
Adds Renn, "We take a lot of used presses and rebuild them and bring them up to the highest standard that you can put on a press, with the servo drives and gear boxes that take it to quite a higher tolerance."
Quality, Efficiency Improve
Discount Labels has found that retrofitting Control Techniques' servo drives, supplied by Industrial Belting & Transmission (IBT), has been helpful, particularly in printing consecutive numbers and bar codes and when hot stamping. The company installed its first servo drive in the mid-'90s when it needed to index paper under a hot stamping unit in very tight register.
"We needed a machine for hot stamping, and we wanted something that would do a real good job real fast, and so we went to the roller hot stamp to try to get that effect, and that worked out real well," explains Evans. "Then we bought some regular hot stamp presses, but we really didn't get the quality we wanted off of those."
That's when the R&D staff retrofitted the first of four presses with servo drives and saw both quality and efficiency improve. Renn notes servos, which are computer-driven, are "more controllable" and far more precise when it comes to overprinting inks in register.
In a closed-loop servo drive system, the drives monitor current motor positions, compare them to pre-set positions, and then adjust the drive speed to control print registration accurately. High-end drives designed with 32-bit digital signal-processing technology accurately check and correct the motor position up to 4,000 times/sec for every motor on the printing press.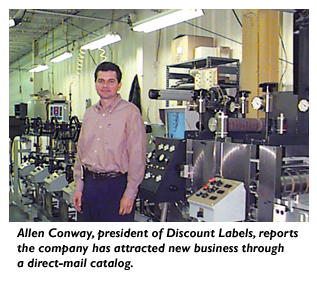 "That's where the versatility comes in," says Renn. "You can make it do what you want to do just by programming it, as far as speed acceleration and deceleration. They'll find the exact location for laydown or hot stamping and even move backward if it overshoots it."
Low Cost, Big Impact
One of the technologies Discount utilizes to offer its customers higher quality at a lower cost is "double bump," or laying down two layers of UV ink on a label and curing it with UV to give it the "pop" normally obtained using silk screen. Renn says this is just another way of making "the little guy look like the big guy" — at an affordable rate.
"If you do it with silk screen, it's going to cost you more," notes Renn. "We can take two flexo plates, and we have presses (with servo drives) that will hold the tolerance and lay down those two right on top of each other and keep them in register and give a really high-end order to the customer."
Evans says the servo drives have been effective particularly when used with laser printers, which run at lower speeds to print bar codes and consecutive numbers, yet don't offer the precise registration of web presses. One of the company's servo drives was retrofitted to a Webtron press, which operates in conjunction with a laser printer. The servo drives are critical in maintaining tighter registration, which allows for faster print speeds.
"Hooking it up to a laser press, which is pretty slow, and being able to flexo print with it, you have to have something that is able to hold real close registration and will run real slow also," explains Evans. "The servo drive follows the laser to keep everything in line. You could hardly do that mechanically; you have to have it servo driven."

"The servo drives are more controllable," adds Renn. "They'll find a location even by moving backwards if it overshoots the mark (on a printed label), so it always hits the mark you program it for. That's where the versatility is on it. You can make it do exactly what you want it to do by programming it to follow the press very precisely."
Catalog, Internet Attract Business
Evans says its 50,000 customers (including those served through quick print shops) across North America and overseas have come to rely on Discount Labels, not only because of its product quality but also because of the company's "overall service level." This includes standard turnaround times of just 24 hr and overnight delivery to meet the all-too-frequent demand for rush orders. Discount also operates two other label plants and seven commercial printing operations across the US.
"They have different capabilities that allow us to give the full breadth of our products to our customers at a reasonable price," says Evans. "Some of the work we run at those locations might not be profitable to run out of this location, so we'll take an order at any of our plants and then convert it in the right plant."
Evans explains that's all part of the company's philosophy, established by founder W. Fred Conway and carried on by his son, company president Allen Conway, of doing what it takes to "make the little guy look like the big guy." Fred Conway, a former fire chief, launched his company in 1965 in the basement of his Evansville, IN, home converting one-color emergency phone stickers that were placed on phones when the emergency calling service first was introduced. But the business really expanded when he established a niche meeting the needs of customers that came to quick printers like PIP, Kinko's, and Office Max.
Today, the company still operates without a direct sales force, relying on dealers, trade shows, and its own direct-mail catalog to attract new business. Although 98% of its end products are custom-printed labels, the catalog details the various die sizes, label shapes, quantities, and pricing the customer can use to develop custom labels using its own artwork. If it cannot be found in Discount Labels' catalog, the company also has a selection of more than 5,000 dies from which to choose.
"We get a lot of work through our catalog and over the Internet," explains Evans. "Like our mission statement says, we're very customer driven; we take care of the customer, and the customer takes care of us. We get a lot of repeat business that way." Along with a chance to attract even more satisfied customers.
Converter Info
Discount Labels
4115 Profit Ct.
New Albany, IN 47151
800-995-9500; discountlabels.com
---
Supplier Info
PCMC/Webtron —pcmc.com
Industrial Belting & Transmission —indbelt.com
Control Techniques —controltechniques.com
---