Published: August 11, 2004, By pffc-online.com
PRESS RELEASE
ST. LOUIS, MO, USA—Mark Andy reports its customer, family-owned label converter Bern-etic, has installed the first of the new Mark Andy LP3000 flexo lines in France at its production facility in Brittany.
Serving predominately the food market in France, Bern-etic focuses on the shorter run, multi-color jobs, where additional techniques like delam and relam and printing on the reverse side can be valuable sales aids, explains Mark Andy.
According to the OEM, Bern-etic's new eight-color LP3000 is equipped with a Hönle UV system, which "has allowed [the converter] to offer a far higher quality of label to customers whose work previously was printed using water-based inks."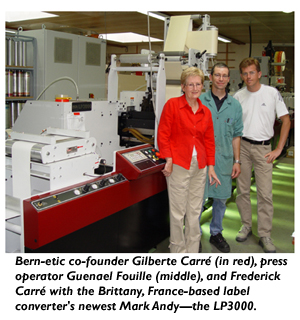 In addition to the food market, Bern-etic supplies labels to the industrial and cosmetic markets.
Says Bern-etic owner/employee Frederick Carré, "After evaluating all the leading major press suppliers, we chose the Mark Andy LP3000 because we saw it as a step forward in our bid to offer high-quality labels to increasingly discerning markets. Its ability to hold register at 200 meters per minute, across the range of substrates we use, makes it a very cost-effective tool."
Mark Andy says another advantage the LP3000 provides Bern-etic is its compatability with the label converter's existing Mark Andy 2200 machine, which the company installed in 1994.
Learn more about Mark Andy at markandy.com.
---