Published: February 21, 2022
By Joe Morgan, Key Account Manager, tesa tape, inc.

Press operators prioritize efficiency, consistency and quality. In today's world of constant delays on all sides of the manufacturing process, time is truly money. It's nice to have a reliable product that won't contribute to business stress. The flexographic printing industry can rely on tesa tape's tailor-made assortment of products to perfectly solve adhesive woes.
At tesa, we offer solutions that go beyond tape. tesa is a leading global supplier of adhesive solutions, and a reliable partner in the flexographic printing market. tesa has a comprehensive understanding of plate-mounting applications from development to production and sales.
Throughout this process, tesa® Softprint was developed -- a single-use tape product for the flexo industry.
What is tesa® Softprint?
tesa® Softprint is an enhanced plate-mounting tape assortment that has been developed into a full matrix of tailored solutions. tesa's specialized R&D engineers understand the wide range of requirements in the flexographic printing industry, and the dedicated flexo team helps to improve overall efficiency by recommending solutions that optimize existing customer set-ups.
tesa meets customers at their facilities to discuss specific product needs. This in-person time is especially welcome after years of working remotely during the pandemic.
What variations of tesa® Softprint exist?
tesa® Softprint comes in both Classic and FLEX designs. The Classic design is PET reinforced, providing easy tape handling and a wide range of product lines for individual requirements. The FLEX design is PE reinforced, developed specifically for more critical sleeve application: thin-walled sleeves, or sleeves with scratched surfaces.
tesa® Softprint comes in seven adhesive product lines and six foam hardness levels for optimized print quality at high speeds and for long print runs. The specially formulated adhesive packages bond to sleeves, cylinders, and plates as securely as possible during printing, eliminating edge lift and air bubbles. And, when the job is done, tesa® Softprint removes easily.
Since there are often many changes in printing designs, but the same desire to minimize the time to market, this tesa® Softprint removal property becomes especially important. Overall, mounting departments and press operators are under pressure to get the maximum efficiency out of their press with the lowest amount of downtime possible. We know that's no easy ask.
The latest innovation within the tesa® Softprint portfolio is the FLEX FE-X EA offering, adding to the smooth and trouble-free plate-mounting experience. The unique liner structure helps air escape during mounting and printing, delivering consistent and excellent print results.
For companies who want to cut waste, as much as the weight of a Boeing 757-200, the tesa® Twinlock product is an exciting option. The tesa® Softprint assortment is supported by established production processes – leaving all foam cells within the tape backing intact for better cushioning and resilience over time. Selecting the correct foam hardness from the assortment will produce exceptional print quality, increase print speed, and overcome print defects like banding, increased dot gain, and pin holing.
What else can tesa help me with?
As a full system provider, tesa offers a market approach that considers all factors of the printing process. Based on individual customer needs, tesa provides the best product solution. In fact, this is the secret behind every happy printer.
Besides plate-mounting solutions and splicing tapes, tesa also has a wide range of complementary solutions based on pressure-sensitive adhesive technology to speed up changeovers, prevent machine stops, and facilitate everyday tasks.
Roller wrapping, plate-edge sealing, or failure-flagging tapes facilitate efficient and reliable printing processes and are just a few examples of the well-conceived solutions tesa has to offer.
Schedule a consultation with our specialists today.
Joe Morgan is a Key Account Manager at tesa, working with the company's strategic national accounts. He has over 30 years of experience in the flexo industry and started with tesa in 2021. He holds a degree in industrial engineering and lives in South Carolina.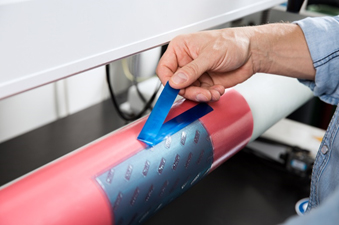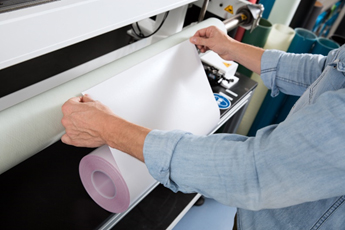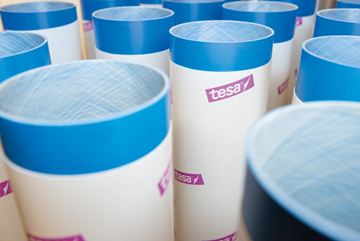 tesa offers a variety of Softprint offerings. The dedicated flexo team helps to improve overall efficiency by recommending solutions that optimize your existing set-up and help you achieve your specific operational goals.