Published: December 16, 2021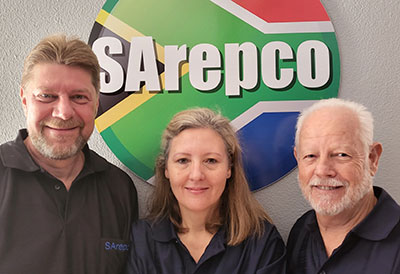 As part of GEW's ongoing program to strengthen its international distribution network, the company has announced the appointment of SArepco Pty Ltd. as its key distributor in South Africa. GEW's Nilpeter and ABG International business will continue to be managed by CSM Print Services, while all other business in the country will be handled by SArepco. This becomes effective from January 1, 2022.

SArepco operates from a head office and showroom facility in Midrand, Johannesburg. The company has built a solid reputation since it was founded by its three directors in 2001, and the 12-strong team there are renowned for their specialist expertise in label and narrow web printing. Representing several major global brands, including Mark Andy and Rotoflex, SArepco is an established pillar of the web printing industry in South Africa.
"Although GEW and SArepco have worked together in some capacity for over 20 years, the new arrangements will see us taking over exclusive responsibility for our areas of GEW's business in South Africa. Our salespeople and our service technicians are highly experienced in working with GEW systems and so the next step will be a seamless progression," said Paul Bouwer, sales director, SArepco.

SArepco will hold stock of all key GEW spare parts and consumables locally in South Africa, to avoid any possible importation delays.

"LED adoption is growing steadily in South Africa and GEW are excited to work with SArepco to transition this market. With energy costs rising and GEW's innovative and cost-effective new range of LED products bringing a step change in press productivity, we look forward to working with SArepco in promoting and demonstrating the benefits of this now critical technology to our customers in South Africa," said Robert Rae, managing director of sales, GEW.

SArepco will exhibit the latest GEW products at Propak/Printexpo Africa 2022 in Johannesburg, which runs from March 8-11. Propak/Printexpo is a key local exhibition for stakeholders in the food processing, packaging and labelling industries, providing a forum for trading, education, sourcing of products and advancements in technology.
For more information, visit https://www.gewuv.com.