Published: May 03, 2018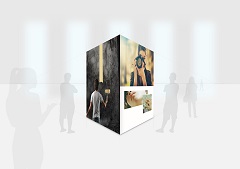 NEW YORK, NY | Avery Dennison, the global materials science and manufacturing company, is challenging the possibilities of how technology can elevate ordinary surfaces into extraordinary interactive spaces with the unveiling of Vela™ Dynamic Display System, technology that transforms glass into a projection screen, which is unveiling at Design Pavilion during NYCxDESIGN.
Avery Dennison will showcase the full potential of Vela™ Dynamic System via the works of four emerging artists – winners of the Bright New Things competition. The competition, created in collaboration with artistic launchpad Arts Thread, challenged new designers and artists to elevate everyday objects with Avery Dennison graphic materials for the chance to exhibit their winning design in a revolutionary technology-powered installation in Time Square as part of the Design Pavilion, 12-20 May 2018.
The large glass cube installation, measuring approximately nine feet by nine feet, will be wrapped in Vela™ Dynamic Display System materials to enable the projection of behind-the-scenes footage of the winners creating their designs. Visitors will witness the cube transform from transparent glass to a surface alive with pattern and color, revealing the winning artwork. Interactive floor wraps using Janela™ smart-products platform will enable visitors to use their smartphones to connect directly to the installation, encouraging a QR code match-up and scan challenge, to unlock spot prizes throughout the day. .
Francisco Melo, Vice President and General Manager of RFID at Avery Dennison, comments, "Technology and materials science are creating new and exciting opportunities for how we interact with everyday objects and spaces. The Bright New Things installation is a showcase of how connected technology can be used to create more personalized, deeper and exciting experiences. Vela™ Dynamic System was conceived as a dynamic window advertising system, but we hope via the showcase at the Design Pavilion we have illustrated the endless opportunities for how it can be used not only by retailers to revolutionize store fronts but by architects and designers to transform spaces and environments and enhance an experience at a click of a button."
The winners of the Avery Dennison and Arts Thread Bright New Things competition are emerging artists Kate Smith, Theo Payne, Mel Edwards and Lara Torrance.