Published: August 01, 2003, By Teresa Koltzenburg, Senior Editor
Name two of the famous people on The Beatles' Sgt. Pepper's Lonely Hearts Club Band album cover (John, Paul, George, or Ringo don't count!). Beatles' devotees may say "no prob," but more casual fans may need to dust off their LPs to find the answer. Music lovers that have replaced LPs with CDs will have to reference their CD packages.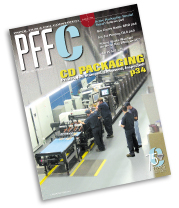 You know the ones, the plastic "jewel case" packages, usually augmented with a printed insert that sometimes bear the lyrics, the copyright info, the acknowledgements, and of course, the artwork.
If you're lucky, your Sgt. Pepper's CD package isn't cracked or in pieces, and the printed insert has been protected by the rigid case. Like I said, if you're lucky. Ahhhh…Wouldn't it be nice if we could go back to the days of the album cover? When enjoying music didn't involve fiddling with cracked plastic cases? When a recording's packaging art could include such distinctive graphic elements as a foil stamped or embossed image? Or when you could just enjoy the design without having to pull out a cumbersome, folded insert?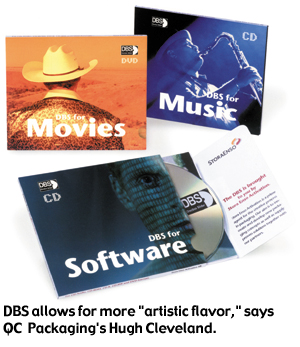 Well, if QC Packaging Systems Inc. has its way, those "album-cover" days (modified for CD recordings, of course) may not be too far off. The Canadian packaging manufacturer says it's on a full-encroachment course to replace those irksome jewel cases with its DBS (Discbox slider) paperboard package. According to QC Packaging managing partner Bill McKnight, the recently incorporated converter plans to do it with the help of its ten-color Arpeco press, its very recently installed BST Pro Mark Genius print management system, a solid and growing relationship with supplier Stora Enso, and "unparalleled" in-house services. So Happy Together
Part of the Canadian media duplication company QC Corp., QC Packaging began producing media packaging in its 50,000-sq-ft facility this spring. Explains director of operations Hugh Cleveland, "To support their growth — in CDs, DVDs, as well as in VHS — QC looked at ways of streamlining their supply chain and controlling their production flow. So they decided to bring their printing in-house."
Besides packages for specific recordings, McKnight says QC Packaging Systems makes packaging for other media, including the commodity packages used for VHS blanks, CD-R, and DVD-R media (the "R" stands for recordable). He adds the young company even plans to produce food, pharmaceutical, and cosmetics folding carton packaging, but right now, he explains, "We have a specific item in a growth mode for us. It's called the Discbox slider."
Not only does the DBS package provide better esthetics and ease of use, says Cleveland, "It will also fit one or two CDs, plus a booklet, so there is some cost savings involved in utilizing this package with two CDs in it."
McKnight describes the DBS design: "It's a two-piece box, basically the same size as a CD jewel case. The box's two pieces, the inside slider and the outside envelope, are formed after they are printed and die-cut. They're formed by a specific piece of equipment."
That specific piece of equipment, the DBS Pac Master, is supplied by Stora Enso, which also supplies the converter with its board material. QC Packaging currently operates two DBS Pac Masters at its 25-person-staffed, two-shift-per-day plant.
The development of the DBS concept, says McKnight, "goes back a long way. Ebbe Dahlstedt [president of Stora Enso Activation AB], who originated this product and developed the equipment, sold his company to Stora Enso."
Cleveland says Stora Enso saw the DBS concept as a distinct opportunity to gain back market share it lost to the plastic jewel case. "Stora held a lot of the album-cover sleeve business and, obviously, that went by the wayside. So they were looking for innovative new ways to gain some market share, and Ebbe's firm was looking for a company with some strength behind it to launch this. So it was a fairly nice marriage."
Uniquely Lean, Yet Full-Bodied
In addition to the unique relationship with Stora Enso, QC Packaging has a host of other unique elements for its folding carton production. First of all, there are McKnight, Cleveland, and director of manufacturing David Franze, who all have extensive folding carton industry experience via their tenure at a major Canadian folding carton manufacturer.
According to McKnight, the three were very excited about the unique opportunity to assemble a folding carton operation that gives customers exactly what they need, "which are reduced lead times and lower costs," he says. "Customers want more but don't want to pay more. So [we invested in the] latest equipment, put a Lean Manufacturing operation together, and now service our customers the way they want to be serviced; we help them reduce their inventories, give them what they need when they need it."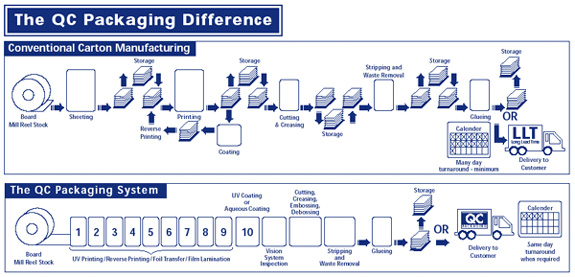 QC depicts its lean operation with an illustration of its process (see graphic). But it takes much more than just a graphic to produce high quality cartons efficiently and cost effectively, and the converter's investment in equipment and experience buttresses its claim of "The QC Packaging Difference."
Among the tools QC Packaging utilizes for the "difference": a Bobst Domino 90 high-speed gluer; a Heaford plate mounter/proofer; an independently managed ink room and color management system staffed by Ink Management Services Corp.; a fully equipped quality assurance lab that employs slide angle testing equipment, X-Rite color management products, a Graphtec plotter, and John Zimmermann, an in-house senior designer with more than 40 years' folding carton experience and 33 patents to his name; a facilities-management prepress service agreement with Alcoa's Southern Graphics; a Martin Automatic butt splicer; and last, but certainly not least, a ten-color UV Arpeco primographic printing press equipped with a BST print management system. According to QC, "it's the only folding carton press in North America with on-web pharmaceutical-grade error detection, ANSI bar code grading, and a color-control monitoring system."
Priming for Success
Installed last April, the primographic Arpeco press provides QC with the best of letterpress, flexo, and offset, says Cleveland. "It allows us to print with much higher resolutions, line screens, and consistency than other processes."
McKnight, Cleveland, and Franze all were impressed by Arpeco's rotary injector technology (which garnered the Flexographic Technical Association's Technical Innovation award in 2002) and is a big reason why they went with Arpeco. "The rotary injector uses a fixed set of magnetic bases and utilizes a magnetic-plate die to place on those magnetic bases," explains Cleveland. "So, when you change the repeat of any product, you don't actually change the hard tool units. The injector, which sets behind the die-cutting unit, injects the web in to match the repeat." From a tooling-cost standpoint, he adds, it saves money, and in terms of time savings, it precludes operators from having to go off-line to a die department to change dies.
"In essence," McKnight summarizes, "it allows us to compete in smaller quantities and smaller runs and to price as if we were using a flat-bed die."
QC's customers are bound to be impressed with the converter's service and prices afforded by Arpeco's rotary injector technology, but they just may gape in awe of the machine's in-line features. "We specified the press so we could perform added-value functions," Cleveland reports, "like embossing and debossing. Because it has ten UV stations, we can add high-gloss lacquers and coatings on packages, as well as do matte coatings, plus any combination of inside and outside print." The press also features a cold foil lamination unit, so QC Packaging's products can employ gold or silver stamped graphics, even holograms.
In late June, QC Packaging finished outfitting its Arpeco with a BST Pro Mark Genius print management system, which provides even more value to its packaging. Explains McKnight, "We feel we run faster simply because our cartons are correct [as they come] off the line; they're finished and quality checked at the same time. Plus, the BST system is a huge marketing tool for us. We're showing it to our customers and demonstrating the amount of control it puts into our process. We're really excited about the future with that piece of equipment."
Talk about excitement! Music lovers everywhere certainly will be excited about the user-friendly, more esthetically pleasing future of CD packaging.
And so you won't have to go digging through your dusty album covers or your cracked CD packages for the answer: Bob Dylan, Edgar Allen Poe, W.C. Fields, and Marilyn Monroe. (Thought I'd take after QC Packaging and give you some extras.)
---
CONVERTER INFO
QC Packaging Systems Inc.
959 Gana Ct., Mississauga, ON, Canada L5S 1N9
905/564-4935; qcpackaging.com
---
SUPPLIER INFO
Arpeco Engineering Ltd.
, Mississauga, ON, Canada; 905/564-5150; 800/387-4806;
arpeco.com
BST Pro Mark, Elmhurst, IL; 630/833-9900; bstpromark.com
Stora Enso Activation, Stevens Point, WI; 715/345-8060; storaenso.com/dbs
Bobst Group Inc., Roseland, NJ; 888/226-8800; bobstgroup.com
J.M. Heaford Ltd., Altrincham, Cheshire, U.K.; +44 161-928-5679; jmheaford.co.uk
Ink Management Services (IMS) Corp., Milton, ON, Canada; 905/691-4064; inkmanagementsolutions.ca
X-Rite Inc., Grandville, MI; 616/534-7663; x-rite.com
Graphtec, Yokohama, Japan; +81 (045) 825-6250; graphteccorp.com
Southern Graphics, an Alcoa co., Brampton, ON, Canada; 905/595-1555; alcoa.com
Martin Automatic Inc., Rockford, IL; 815/654-4800; martinautomatic.com
---