Published: January 24, 2023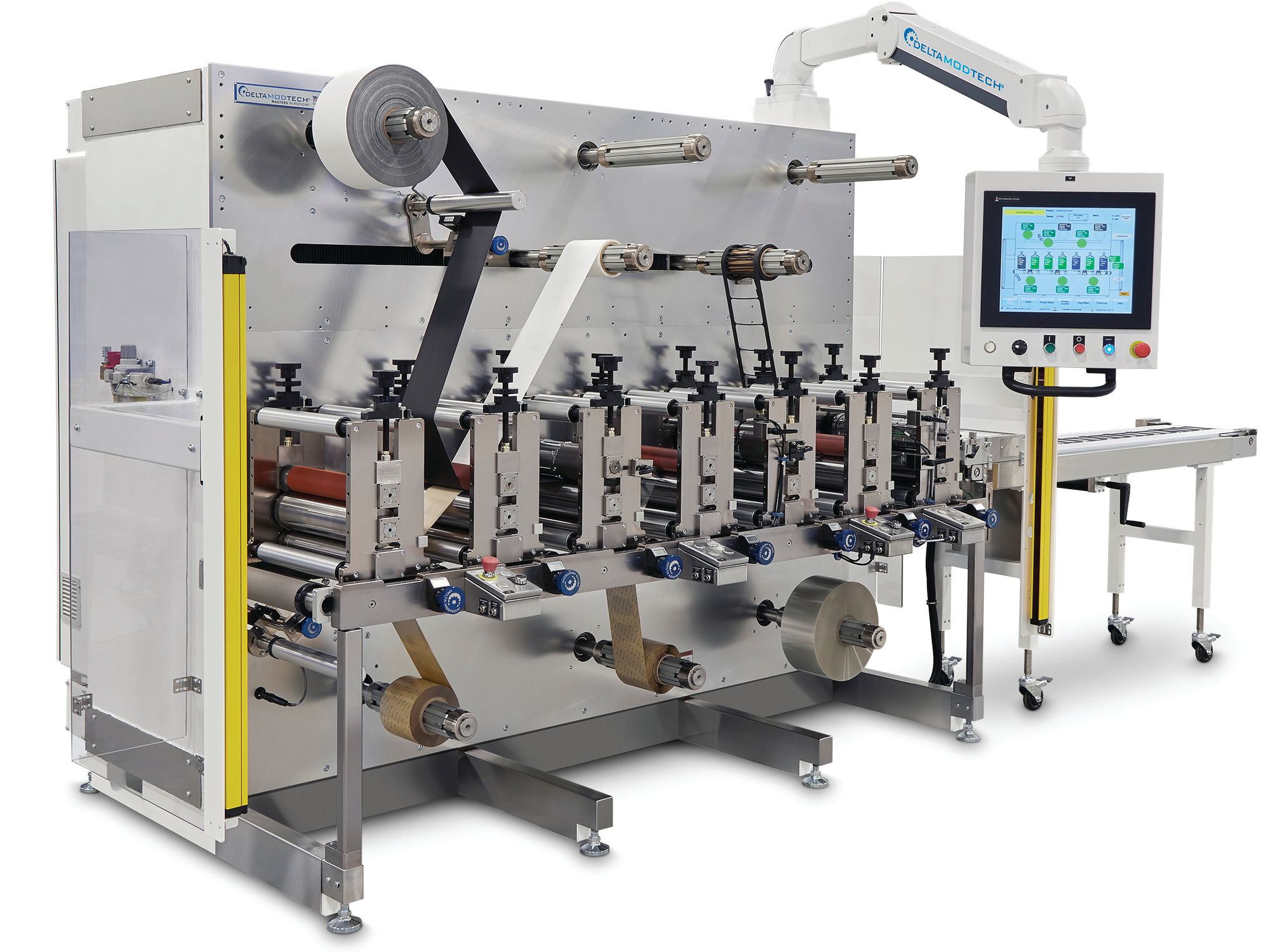 For over 40 years Delta ModTech has been a global leader in web converting and packaging innovation. Headquartered in Minneapolis, Minnesota, Delta ModTech designs and builds manufacturing systems for the most complex demanding jobs in the medical, pharmaceutical, label, RFID, electronics, automotive, battery, and consumer industries.
Delta ModTech's process support and service is what truly sets them apart from the competition. Real people, with real experience, providing solutions for you Now. Just ask any Delta ModTech machine owner.
CONVERTING, PACKAGING, COATING, DRYING
Building complete web converting and packaging machines out of proven, flexible modules gets you to market faster, with less risk and less downtime. Our modules have already proven their superior precision, validation, and compliance capabilities.
MARKETS SERVED
Medical: Woundcare Dressings, Ostomy, Point of Care Diagnostics
Pharmaceutical: Transdermals, Dissolvable Films, IVD
Automotive: Gaskets, Adhesive pads, Metalized labels, Foam
Electronics: Flex circuits, Batteries, Touchscreens, RFID, Wearables
Consumer: Cosmetics, Orthopedics, Filtration, Packaging
Labels: Multi-laminates, Holograms, Digital Finishing
ROTARY DIE CUTTING MACHINES
Rotary Die Cutting Machines that Achieve the Tightest Tolerances. Whether you are faced with new specifications that require tighter tolerances, or your old machine can no longer cut as precisely as it used to, Delta ModTech has a solution with our precision die cutting machines.
Modular machinery design provides the ultimate flexibility
Industry-first servo motor control at every die station and winder
Precision die cutting and multilayer lamination
Industry leading tension control
Mod-Track® Vision Inspection – closed loop registration, date/bar code reading, Part-in-pouch, reject bad parts
Conveyors for spreading, stacking, rejecting and inspection
PRECISION PACKAGING SOLUTIONS
Seal to print registration is the packaging solution for process applications where speed, flexibility and consistent seal quality are important. 3-4 side seal equipment with full rotary motion inline and in registration with the converting process.
For the manufacturing of:
Heat-seal/Cold-seal pouches
Resealable pouches
Liquid dispense pouching
Sachet filling
INTEGRATION
Improve your capability with seamless integration. Delta has developed several solutions to meet the package and pouching needs of our customers and their end users. Our experience with building machines to meet the demands of the most stringent specifications will give you confidence in meeting your production goals.
Commonly integrated equipment:
Extrusion Equipment
Part handling Conveyors for: stacking, shingling, sorting, turning, etc.
Turn-key integration of date, lot and bar code printers – inkjet, thermal transfer, laser, digital
Case packing and cartoning Packaging and Pouching
COATING & DRYING
Now with Frontier Coating Technology - In 2016, Delta ModTech acquired Frontier Industrial Technology (now Frontier LLC). Frontier has successfully developed custom coating and drying solutions for 30 years. This partnership allows us to provide turnkey solutions from lab scale to production.
Lab Coaters, Pilot Coaters and Production Coating Solutions
Specializing in Roll to Roll Slot Die Coating
Coating Technology Lab for Development and Proof of Principle
Floatation, Roll Support, Impinged Air Drying
INDUSTRY RESOURCE
Check out Delta ModTech's blog for the latest industry trends and case studies. For more information visit www.deltamodtech.com.