Published: November 17, 2019
Esko, a global supplier of integrated hardware and software solutions for leading display, signage and packaging customers, has extended its Kongsberg digital cutting table range with the Kongsberg X Edge - a completely new, fully upgradeable table design offering the perfect combination of productivity, flexibility and best in class reliability.
Delivering speeds of 30m/min with acceleration of 0.3G and able to handle the full spectrum of display, signage and packaging materials - from kiss cutting vinyl to heavy duty milling and every job in between - the Kongsberg X Edge means no longer being forced to compromise and choose between speed, precision or production power.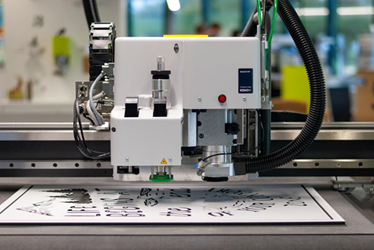 "The Kongsberg X Edge has been specially designed to ensure there is no sacrifice in machine configuration, with all the options you would expect from the Kongsberg X Series available," said Russell Weller, product manager at Esko. "The difference is that as your company grows, the Kongsberg X Edge evolves with you. It can be easily upgraded in terms of both speed and acceleration to ensure it keeps up with your business demands."
"The Kongsberg X Edge delivers this high production speed and outstanding cutting quality at a remarkable price. Moreover, the Kongsberg X Edge design avoids the impact of costly reinvestment when a business expands, not only delivering exceptional cutting quality but also unlocking future production flexibility and profitability."
Incredibly versatile, the Kongsberg X Edge is as suitable for short run production, sample making and other packaging-related jobs, as it is for signage and display production. "This new innovation has been developed to ensure great quality for any job or application," added Russell. "The extra fast tool loading, auto recognition and calibration features are ideal for short run jobs, with the added flexibility of an optional conveyor system available to support automated board and roll feeding when required."
Delivering a variety of milling options to match throughput requirements, the Kongsberg X Edge also features perfect print-to-cut registration, even in cases of heavy distortion and jobs longer than the table.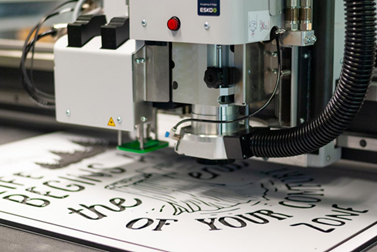 "The Kongsberg X Edge is the perfect tool for cutting flexo plates and patches, operating in tandem, both physically and digitally, with existing imaging devices," added Russell. "Easily fitting into a truly tailored workflow, it can also be equipped to produce dedicated shipping boxes for finished plates."
The engineering of the rack and pinion drive, the construction of the tabletop and the quality of the motors and traverse all combine to ensure that the table provides the greatest cutting accuracy and consistency.
"Esko connects hardware and software to streamline your production from start to finish, from design to shipping," said Russell. "Having secured a reputation for delivering speed, precision and production power through superior engineering and build quality, Esko now brings next generation innovation to its portfolio with the Kongsberg X Edge."
Fore more information, visit www.esko.com/kongsberg-x-edge