Published: May 06, 2022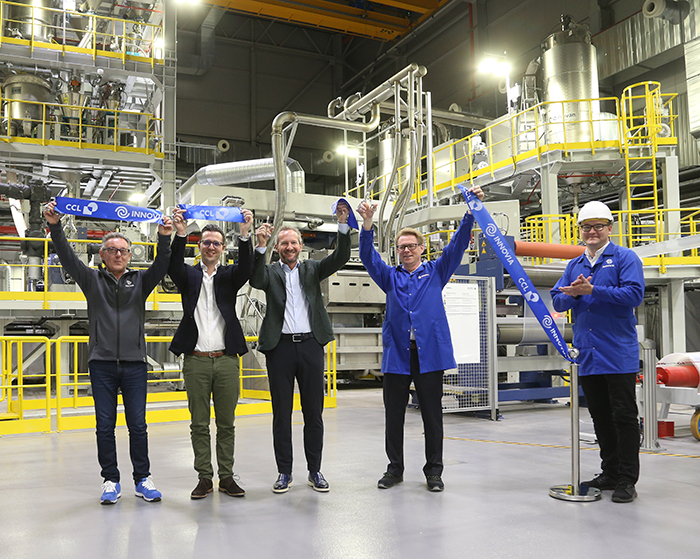 Innovia Films (Innovia), a major producer of highly differentiated speciality films announces the opening of a new 6.2 meter multi-layer co-extrusion line at its site in Płock, Poland. The state-of-the-art line will be dedicated to manufacture low-density polyolefin shrink film for shrink sleeve labels and tamper evident applications.
The film forms the basis to produce sustainable floatable shrink sleeves. This facilitates easy separation of labels from PET, HDPE and PP bottles and containers in the recycling process to enable bottle-to-bottle circularity. This shrink sleeve material is mainly for use within the Food, Beverage and Home & Personal Care industries.
Innovia to market the film under the brand RayoFloat™
RayoFloat™ APO is a clear, uncoated shrink film that floats, as its density is <0.93 g/cm³. The film is also glossy, scuff resistant and printable, with a controlled TD shrinkage up to 70 percent. RayoFloat™ has been endorsed by the European PET Bottle Platform EPBP, although this film is perfect for use on a variety of HDPE and PP containers too.
CCL Label markets the polyolefin labels under EcoFloat™
CCL Label has been partnering with multinational brands to develop recyclable PET containers for bottle-to-bottle recycling in a closed loop. Polyolefin sleeves are also a recycling-friendly match for PP- and PE-based packaging as they stem from the same plastics family.
As EcoFloat™ sleeves are made from low density polyolefins, they make the difference in the crucial sink/float recycling step at PET recyclers. The sleeve material floats and this allows for a clean separation from the heavier PET flakes that sink to the bottom of the washing tanks. This easy separation forms the basis of the yield of high-quality PET flakes that can be used in bottle-to-bottle recycling, closing the loop. EcoFloat™ has been endorsed by the European PET Bottle Platform EPBP.
For further information, visit www.innoviafilms.com.