Published: January 13, 2017
CHIPPEWA FALLS, WI | Nordson Corporation announces the new patent-pending EDI PolyStream a motorized back pressure valve assembly for extrusion coating and laminating that is said to be the first such system to provide closed-loop control, minimizing human error and the possibility of injury when making manual adjustments.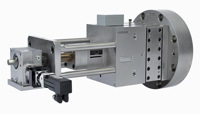 Although extrusion coating operates at higher melt temperatures than other extrusion processes and requires use of a back pressure valve to reach these temperatures, excess back pressure can lead to polymer degradation. Installed between the extruder and the die, the new assembly uses closed-loop control to maintain back pressure within a range targeted to ensure optimal processing. The drive for the valve responds to a controller that receives a continuous flow of signals from a pressure transducer, causing the valve to open at varying degrees in accordance with whether back pressure is trending too high or too low. When the valve reaches its limit of opening as a result of excessive contaminant buildup on the filtration screen, an automated warning indicates that it is time to change the screen.
A human/machine interface (HMI) enables the operator to specify process conditions or to use specifications from a recipe. The valve assembly can be run manually, although company recommends automated closed-loop operation.
"The PolyStream valve assembly is the first completely hands-free system for regulating back pressure in extrusion coating," says Sam G. Iuliano, business development manager for polymer dies. "Back pressure conditions are affected by numerous factors and are in a constant state of flux. By making operator intervention unnecessary, our new system helps to ensure coat weight consistency, adequate adhesion to the substrate, and a high level of product quality."
The PolyStream assembly includes a motor, breaker plate screen pack, linear valve, melt pipe, control system, and optional display panel.