Published: August 10, 2016
CHIPPEWA FALLS, WI | Nordson Corporation announces a redesign of the EDI Autoflex VI flat extrusion die has increased the "stroke" of the lip adjusting system by 43% without adding to response time, reportedly enabling it to correct a wider range of process variations, often without need for manual intervention. Company says the design of the new Autoflex VI-E lip adjusting system is also smaller and more streamlined, simplifying disassembly and reducing the time for maintenance.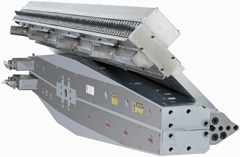 The adjusters in the Autoflex VI die include thermally actuated copper alloy translators that are linked to a computer-controlled downstream gauge monitor. The movement, or stroke, of these translators provides gauge control by causing the die gap to increase or decrease. By providing a much larger stroke without an increase in response time, the new system is said to have a greater capacity to correct for changes in throughput, line speed, target thickness, and other process parameters while remaining in automatic mode.
"Nordson redesigned the Autoflex VI system in response to feedback from customers, who told us their greatest needs were for increased automation and reduced downtime," says Sam G. Iuliano, business development manager for polymer dies. "The greater responsiveness of our new system will be particularly valuable in thin-gauge applications such as cast film and extrusion coating."
The new unit is retrofittable on existing dies. It is available with either convective or forced-air cooling and is available in a modular version that can be removed from the die as a complete unit. The combination of the Autoflex VI-E system and a computerized gauge monitor typically yields closed-loop control that reduces gauge variation to about half of the minimum achievable with manual systems, according to company.
In addition to mechanical adjustments with screws, the lip adjustment components in all Autoflex VI-E systems are actuated by cartridge heaters. When a thicker-than-target area is detected in the film or coating, power to the cartridge heaters at the corresponding points in the flexible lip is automatically increased, causing the adjuster blocks to thermally expand, which tightens the lip gap in the area. Conversely, thinner-than-target areas are addressed by a reduction in power.