Published: July 29, 2016
NOIDA, INDIA | Uflex Limited, a global flexible packaging solution company, has designed the EL-1300 Extrusion Lamination Machine that is said to carry out the process of lamination for woven propylene seamlessly.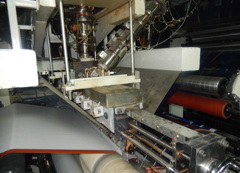 Company reports the following benefits:
Attainable lamination speed of 250 mpm;
Corona treaters to seamlessly integrate treater into flexible packaging extrusion coating and lamination lines;
Independent drives for all segments of the machine;
Heavy Duty (Sturdy) structure;
Motorized three-axis movement of carriage for air gap setting;
Chamber-type doctor blade for anchor coating;
T-Die with internal duckling and lip opening to 1 mm;
Unique design of lamination drum to maintain even temperature across the width;
Sleeve-type coating nip as optional;
Turret type unwind and rewind;
AC vector grade motor with digital AC vector drives.
Reportedly, converters and packaging companies have faced difficulties while laminating a woven web owing to the troughs and valleys (also called warps and wefts) that are inherent part of the texture. This new machine is said to have been designed in response to this and to be equally efficient to laminate very thin LDPE substrates to woven polypropylene and also to paper/any packaging film.
Ashok Chaturvedi, chairman and managing director, Uflex Limited, says, "Our USP lies in the very fact that we are a fully integrated flexible packaging solution company. If on one hand we can offer laminates as rolls and pre-formed pouch, we can [also] offer machines that can form packs out of those rolls, fill the product in them, and seal it to your satisfaction too. We also offer a wide array of printing and lamination machines that are capable of carrying out high precision converting processes to make these laminates."
This email address is being protected from spambots. You need JavaScript enabled to view it.