Published: March 25, 2013
PAWCATUCK, CT | Davis-Standard is offering the new dsX flex-pack extrusion coating line. Line is said to provide converters and package printers with the capabilities and flexibility needed to ramp up and compete effectively for a variety of rapidly emerging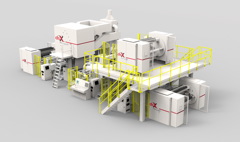 application opportunities including salted snack and noodle bags, toothpaste tubes, sachet packs, personal care products, condiment packs, and stand-up pouches.
This pre-engineered line, which can be delivered in as little as six months, includes flexible packaging unwinder; corona treaters; extrusion laminator; gravure primer coater dryer; pull roll with nip; winder; company's electrically heated, air-cooled extruder with advanced feedscrew design; downstream, carriage, and controls (Seimens drives and controls are used throughout).
Lines are available in two versions: a longer line with the auxiliary unwinder placed close to the floor; or one that raises the auxiliary unwinder to a position just atop the winder to shorten both the line length and the path of the auxiliary web to the laminator.
Advanced computer technology that is standard includes DS APC (automatic profile control), which continually adjusts the product profile for best performance, and a DS5 computer, which allows for remote access to the line for troubleshooting and updating over a secure internet connection. Performance data is exportable to factory systems for SPC and other analytical management tools.
Bob Florence, executive VP of sales and marketing of Davis-Standard, says the company "focused on incorporating high-value features that would reduce variability for better end product quality; provide greater uptime and productivity; minimize waste along with operating and maintenance costs; and would be applicable to a wide range of end product applications."
This email address is being protected from spambots. You need JavaScript enabled to view it.