Published: September 13, 2012
WILMINGTON, DE | The Tie Resin Selector, the second in a series of online predictive modeling tools from DuPont Packaging, promises to simplify tie-layer material selection, a critical step in multilayer packaging design.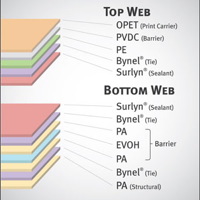 Users start by identifying two materials to be joined together, and the Selector provides a short list of recommended grades of DuPont tie resins grouped by type of extrusion process. The Selector includes links to data sheets for recommended grades, to other relevant literature, and to a customer service contact for sample ordering and inquiries. Its database includes more than 40 grades of DuPont Bynel coextrudable adhesives plus several grades of DuPont Elvax EVA copolymer and DuPont Nucrel acid copolymers.
"Selecting the right coextrudable adhesive ensures dissimilar polymers bond—and stay bonded from manufacturing through consumer use," says Barry Morris, Ph.D., DuPont Packaging technology fellow. "Designers today have hundreds of options, and their performance varies based on the packaging structure's manufacturing process, the contents of the packaging, and the environment that the packaging is exposed to. Selecting the right adhesive is critical.…"
This email address is being protected from spambots. You need JavaScript enabled to view it.