Published: August 30, 2012
CHIPPEWA FALLS, WI | Premier Dies Corp., a business of EDI, will introduce a self-contained slot die coating station to the Asian converting industry at ICE Asia 2012, scheduled for October 10–12 at the Shanghai Mart.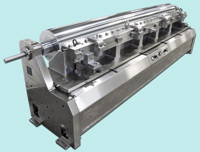 Reportedly, the station combines robust construction, versatility, and consistent accuracy. It includes a flexible- or fixed-lip coating head, die support, fluid delivery unit, and coating rolls and is designed to accommodate supported-web and unsupported-web configurations. Four axes of die adjustment are available.
The company can build the coating station for installation in either new or existing coating lines. Robert Shakal, VP of Premier Dies, says a modular version of the station can be moved on- and off-line. "Modular coating stations provide versatility and help reduce downtime for die maintenance or job changes. Some of our North American customers use the movable station to alternate between slot die and conventional roll coating, while others switch among several coating stations, each with a different slot die."
This email address is being protected from spambots. You need JavaScript enabled to view it.