Published: July 17, 2012
PAWCATUCK, CT | Davis-Standard introduces a spiderless foam sheet die said to improve processing of polystyrene and polyethylene materials for commodity and high-end foam sheet markets. Reportedly, the die is capable of an extensive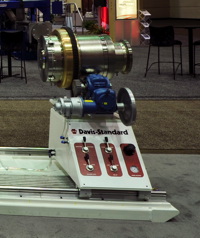 range of sheet thicknesses, widths, and densities. It is also engineered to reduce downtime and maintenance while offering precision capabilities to improve quality and efficiency, company adds.
According to the company, the die eliminates spider weld lines and provides a uniform basis weight and thickness over the entire sheet width, resulting in a better yield and eliminating the need for edge trim. A unique die lip gap opening and closing adjustment mechanism enables the operator to make modifications during production without interrupting the process. This control is further enhanced by an external die lip concentricity adjustment.
Other reported advantages include streamlined flow channels, up to three zones of temperature control, nickel plating on all wetted surfaces, and aluminum constructed internal and external air rings. Modular inner and outer die lip inserts make it possible for easier, inexpensive replacement of a damaged or alternative die lip design. A die lip fast gap feature allows for quick cleaning of melt contaminates. Die designs are capable of thicknesses from 0.040–0.500 in. (1–12 mm) thick and for widths from 24–120 in. (600–3048 mm).
This email address is being protected from spambots. You need JavaScript enabled to view it.